Kind-hearted Houseparent and Maths Teacher runs over 3 consecutive marathons around grounds for NHS staff
29 Apr 2020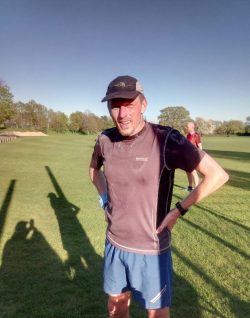 A kind-hearted Houseparent and Maths teacher from Bromsgrove School has run the equivalent of over 3 consecutive marathons to raise funds for the NHS.
At 6.00am on Wednesday 15th April, Matt Giles began a sponsored run of laps around Bromsgrove School's sports pitches (~0.95 miles per lap). Speaking about his feat Mr Giles said "Inspired by so many back garden marathons being completed in lockdown, I thought I'd have a go myself. The weather looked good for the following day and as a last minute thought I would set up a Justgiving.com page and offered a free takeaway for anyone who guessed the number of laps I managed, in the hope of raising a couple of hundred pounds for the local NHS. Things soon evolved into a gruelling 12 hour run and far exceeded my expectations of donations".
"I'm amazed to see how generous people are being and how keen they are to support the local NHS, whose staff are selflessly doing a great job for all of us. It is a privilege to be able to promote the opportunity to donate to such a worthy cause. A huge thank you to everyone who has donated. I'm now able to eat without guilt for a few days and hope our grounds staff don't come after me about the new grooves worn around the School pitches".