Try, try and try again… – Kingham Hill School
19 Sep 2019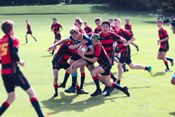 Congratulations to the 1st XV boys rugby team who won a stunning victory away to Rendcomb.
The boys played a superb game and racked up an extremely high score, winning the match 50 points to nil. Jamie Quick (Year 11) was one of the players to have his first game for the 1st XV and marked the occasion with a try!
Well done to all the boys who played.