100% Success in LAMDA Drama Results at Slindon College
06 Oct 2020
A huge achievement for our budding young actors whose LAMDA Drama results were the best yet at Slindon College! Slindon College pupils took part in LAMDA performance examinations at Haywards Heath Exam Centre in 2020. LAMDA Drama was one of the only practical exams that was completed as it normally would be prior to social distancing, and prior to the country going into Lockdown.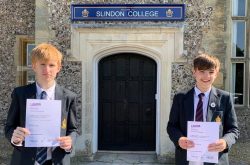 The LAMDA Drama results awarded have exceeded all expectations, with the highest results we have had for Slindon College students. Ethan S. and Harrison T. both achieved our highest award yet, the 'Bronze Medal,' which not only gains them their first batch of UCAS points, but our first ever bronze medals for their lapels. Year 11 students Oliver H. and Finn B. both receive yet another 'Distinction' in their results, each following on from their success last year.
For more Slindon College news click here.
To find out more about the College click here.