Bromsgrove netball teams in national netball Finals.
29 Apr 2020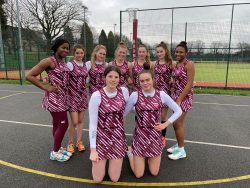 Congratulations to Bromsgrove School's 1st Netball and U14 netball teams, who have qualified for the National Netball Finals. This national schools' competition, in association with the British Army, is the biggest schools' competition in the netball calendar.
On 26th January, the School hosted the Regional Netball Finals where the U14, U16 and U19 teams were competing and representing Worcestershire.
The U16 team competed well in a hard pool, to be placed 3rd and narrowly missing out on a place in the Semi Finals.
The U14 team won all games in their pool, beating Bablake School 12-7 in the Semi-Final and after full time in the Final were drawing 8-8 with King's Worcester.  After extra time, Bromsgrove U14s lost by a goal, attaining the silver medal and qualifying for the National Finals.
The 1st team were unbeaten all day, winning every pool match comfortably.  In the Semi-Final, they beat Rugby School 13-4 and won the Final against Wrekin College 10-5 to be crowned West Midlands Champions.  They also now go through to represent the region in the National Finals which will be held at Stanborough School, Welwyn Garden City in March.
The schools due to compete in the competition have already done incredibly well, with the top two sides in each age group from nine regions securing their place at this prestigious national event.
Mrs Emma Buckingham, Head of Girls' PE and Games said "Sunday was a fantastic day for Bromsgrove School netball. It was a pleasure to host the Regional Finals and a great achievement to have school teams representing Worcestershire in all age groups. I am immensely proud of both the 1st team and U14 team, who have once again made it through to the National Finals. Their attitude and hard work has been a credit to both the School and themselves".