A level Results 2020 – King's School Worcester
07 Jun 2021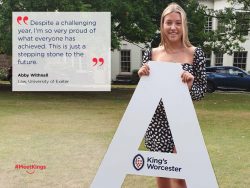 King's students are celebrating an excellent set of A level results. With these results, students have been accepted onto an impressively wide range of courses at leading Universities, including Engineering, Art, Midwifery, Law, Medicine, Physiotherapy and Business Management. Overall, 59% of results were graded at A* – A, 84% graded A* – B and 96% of results graded A* – C. 80% of pupils have secured their first choice university.
In addition to A level results, Extended Project Qualification (EPQ) results were outstanding with 50% of projects awarded A* grades, 81% A* – A grades and 100% awarded A* – B grades. These exceptional results were achieved by our largest ever EPQ cohort of 42 students who produced dissertations and artefacts to answer a diverse range of questions. This qualification is equivalent to half an A level and provides an additional area of expertise supporting university applications.
Jon Ricketts, Acting Headmaster, praised the students on their achievements. "The Upper Sixth collecting their results today can be exceptionally proud. I'd like to congratulate all students on their outstanding academic success and for their diligent application over the past two years of their courses. I have been very impressed with the way they have dealt with the disappointment and uncertainty following the cancellation of public examinations.
"Furthermore, I would also like to pay tribute to the teaching staff at King's, not only for their outstanding support and dedicated teaching but also for their careful and meticulous work that enabled the awarding of these grades in these unprecedented circumstances. The last six months has been an unsettling time for all. We have been impressed with the adaptability of both pupils and staff, who have adjusted rapidly to our new distant learning offering. We are delighted with what has been achieved in the wider school too and very much look forward to welcoming the school community back in September."
Josh Hand, Head of Sixth Form, celebrated the extensive accomplishments made by pupils, adding, "A level results represent only one part of this year's achievements. The students have brought great commitment and enthusiasm to King's School life whether inside or outside the classroom. Throughout their time in the Sixth Form, on the sports fields, in the school's theatre whether playing in a musical concert or performing in a drama production, or volunteering within the school community, our students have endeavoured to experience it all. They leave King's with not only impressive results but a broad range of interests and skills to take them into the next stages of their lives."