BBC Broadcaster opens Winterfold's new Outdoor Learning site – Forest School
29 Apr 2020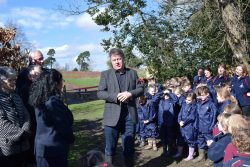 On a beautiful spring day in March, pupils, staff, parents and governors of Bromsgrove School, Winterfold assembled for the opening ceremony of their newly created outdoor learning environment, Forest School.
The ribbon was cut by TV's Michael Collie, known from BBC Midlands Today and Countryfile, in particular.  Michael is also a parent of four girls who went to Winterfold School, before going on to Bromsgrove School.
Speaking with his hands covered in mud, Michael said "It's brilliant to see the children at Winterfold just enjoying nature and the environment – they've been showing me what they can do simply with mud and there's a lot of it about!
"I love the fact that an old bomb crater, which has been covered in undergrowth for years, has now been re-discovered and turned into a fantastic natural water environment, for plants, animals and pupils to enjoy.
As he cut the ribbon with Reception pupil Grace McNaughton – picked because she was wearing the dirtiest wellies, Michael Collie joked with the children that he thought the hide that had been built, was for children to hide from the teachers.  "They soon corrected me," he said, "and told me it was to go birdwatching – thank goodness for that!"
Michael talked about his time on Countryfile, when he filmed all over the UK and abroad, going to places that were "wet, windy, muddy, sunny, snowy, blizzarding and wonderful".  He urged the pupils to enjoy and care for the environment, noting that perhaps we hadn't always done that well so far.
Looking back on his reasons for sending his daughters to Winterfold School, he commented "This sums up what Winterfold is all about – letting children take risks, within reason, and have fun. This is a school that spends money on the things that matter and creates a brilliant environment in the classroom and outside – and the result is the confident and shining, happy, slightly muddy faces I've seen today."
After visiting the new shelter, which will be an outdoor classroom, Michael Collie, together with the Chair of Governors Paul West, Governor Geoff Strong, guests and the Friends of Winterfold committee were treated to a tour of the new site which has been put back to nature.  The Friends of Winterfold have funded a bird hide, tool shed and the new Forest School suits for the children.  There will be sections for each year group, from Nursery, through to Year 8, with plans to plant a herb garden, vegetable patch and an orchard.
The pond is already well established, with flora and fauna in abundance.  There are plans to build a jetty, so that the children can enjoy lessons in pond dipping.
Sustainability is of paramount importance to everyone at Winterfold. One parent commented that it was great to see the School re-using the materials they already have for the project.
Denise Toms, Headmistress of the School said "'Our new Forest School is an outstanding facility for our young pupils to explore the outdoors and enhance their learning and development. We were delighted to welcome Michael Collie, BBC broadcaster and father to four girls who have all been educated at Winterfold, to open our new site. We look forward to taking groups of children to explore the Forest School area with pond, orchard, bird hide, shelter and fire pit. We aim to motivate, inspire and give the children a positive outdoor experience".