BRITISH COUNCIL CHINESE SPEAKING COMPETITION at Cheltenham ladies' College
06 May 2020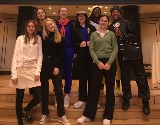 Seven students from College took part in the 16th National British Council Chinese Speaking Competition heats and competed in both the individual and groups categories.
Their outstanding performances impressed the judges so much that the whole team has progressed to the final competition, which takes place next month in London.
Congratulations to Louisa (UC4), Isabella and Kalilah (UC5), Kay, Caroline and Siriol (SFC1), and Olaedo (SFC2) for reaching the final stages of the competition. Our thanks also go to Happy (SFC1) for contributing her linguistic skills to the team during their preparations for the competition.
Mrs F Sonnenschein, Teacher of Mandarin