Bromsgrove Pupils treated to behind the scenes tour of House of Lords
29 Apr 2020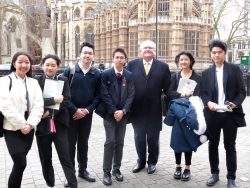 On Friday 21st February, six pupils from China and Hong Kong were treated to a behind the scenes tour of the House of Lords with Digby, Lord Jones of Birmingham Kb.
When the distinguished Old Bromsgrovian and Foundation Trustee learned that some of the School's boarders would be unable to return home for half term, he invited six pupils to spend the day with him at the House of Lords.
The pupils were permitted to sit on the famous red benches of the Lords and stood at the same despatch box from which Winston Churchill had made his famous war-time speeches.  Lord Jones then led the pupils into the House of Commons chamber and explained how our democracy works.
Head of Languages Mark Beet who accompanied the pupils said "this was a unique and memorable opportunity for our pupils and very special to be shown around by a peer who is a former pupil.  Lord Jones was a fantastic host and inspired the pupils with his own personal story."
Digby, Lord Jones of Birmingham Kb was a pupil at Bromsgrove School between 1969 and 1974 and sits in the House of Lords as a non-aligned cross-bencher. He served as Director-General of the CBI (2000-2006) and as Minister of State for UK Trade & Investment (2007-2008). A Lawyer for 20 years (1978-1998) with Birmingham corporate law firm Edge & Ellison, he now holds many positions in both large and small businesses, is an author, television presenter and works with several charities in the fields of cancer, education and the military.