Celebrating the Platinum Jubilee – Millfield Prep School
23 Jun 2022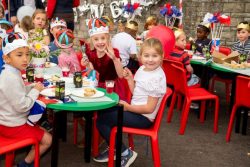 Millfield Prep School held an early celebration of the Queen's Platinum Jubilee on bank holiday Monday, due to the Queen's 70th anniversary falling during the half term holiday.
Pupils took part in a range of activities in the morning such as a 1950's-style sports day, crown making and learning about the history of the monarchy.
The afternoon saw the Mayor of Glastonbury, Jon Cousins, and the Shepton Mallet Town Crier, Andy Neal, join the school to sing the national anthem. They also joined with the Heads of School to plant a Glastonbury Thorn tree, to honour the incredible legacy of Queen Elizabeth II.
The Pre-Prep pupils also presented their Maypole dancing, with staff and Prep pupils cheering them on from the side. Once the dances were complete, the campus turned into a street party, with bunting decorating the grounds and music playing whilst staff and pupils enjoyed a picnic.
The Head of Millfield Prep, Dan Thornburn, said the atmosphere was fantastic and he was proud of how the pupils and staff celebrated an incredible day in Great Britain's history.
"It was great to have the whole of the Millfield Prep community coming together for such a remarkable event. It was refreshing to see the children learning about the history of our country and understanding what an achievement the Platinum Jubilee is."
He added, "It will be a day to remember for a lot of the people at the school, including myself. Celebrating commitment and success is something that we pride ourselves on at Millfield Prep, and what better example than the Queen's reign."