Pupil Wins Art Prize – Bishop's Stortford College
26 Mar 2020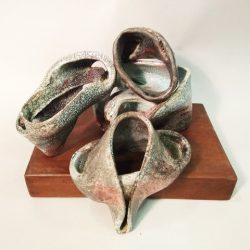 A Bishop's Stortford Senior School pupil has won a catalogue cover competition run by SpecialistCrafts.
Bishop's Stortford College Senior School pupil, Harriet H, has won the 2020 Specialist Crafts Catalogue Cover Competition, which sees her artwork featured on the Pottery and Ceramics cover page.
The annual competition, which receives hundreds of entries from pupils in countries across the globe, gives aspiring young artists the opportunity to display their work in public through the Specialist Crafts online gallery and catalogue with the best pieces being selected to appear in their 644-page catalogue.
13 pupils from Bishop's Stortford College Upper Fifth Form submitted a selection of their GCSE coursework and final examination artwork to the competition in June. Specialist Crafts commented, "Each year we are delighted to see the incredible artwork submitted to our Catalogue Cover Competition from hundreds of talented art students."
Describing the selection process as "almost impossible", the arts and crafts company announced in December that Harriet's ceramics piece, which she created using a centuries old Japanese technique known as Raku firing, was one of the winning pieces and would be printed in the globally distributed catalogue. Harriet's prize also includes a voucher which can be used to buy supplies from the 16,000 arts, crafts and design products featured in the catalogue.
The College would like to congratulate Harriet on this wonderful achievement. Her winning piece can be viewed online and in the printed version of the Specialist Crafts Catalogue 2020.