Daynurseries UK Top 20 Day Nursery (Wales) 2021 Award – St Clare's School
02 Aug 2021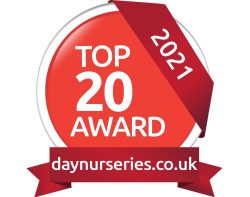 St Clare's Nursery is thrilled to have just won a Daynurseries UK Top 20 Day Nursery (Wales) 2021 Award.
Daynurseries UK Awards 2021 recognise 20 of the top rated Nurseries in each region of the UK and the Top 20 Day Nursery Groups in the UK, based on reviews from parents/individuals responsible for a child.
St Clare's offers an exceptional education for pupils from 2 1/2 in the Nursery. 
Parents love their smaller class sizes, weekly Spanish, Forest School and optional ballet lessons. As a result, they are delighted that parents reviews have scored them a fantastic 10/10.
Daynurseries UK Awards are based on the Individual and Group Review Score, as of 28th May 2021, so for a full breakdown of a Nursery's Review Score please visit the 'Reviews' tab on the profile page