Eastbourne College exam success – GCSE and A-level success
20 Aug 2020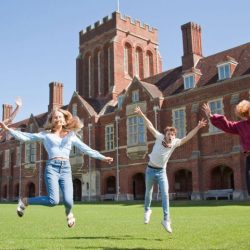 Pupils at Eastbourne College celebrate another year of strong GCSE results, following the A-level uptick last week. GCSE and A-level results at the school have risen for the third year in a row, with the proportion of top grades increasing each year.
This year's set of results reflect a combination of hard work from pupils, parental support, year-on-year improvements in teaching and learning strategies, and the integrity of grading.
Over one in five (22 per cent) grades awarded to pupils this year were at the highest grade available, grade 9. Over 40 per cent of grades were 9 or 8 (equivalent to A*). Top grades accounted for the vast majority of grades awarded, with almost two thirds of all grades being a 7, 8 or 9 (equivalent to A-A*). Over a quarter of all pupils taking GCSEs achieved ten or more grades at 7, 8 or 9, and thirteen pupils received ten or more grades at 8 or 9. Almost 70 per cent of pupils were awarded five or more grades at 7-9.
This year, the boys and girls did very well but it was the girls who stole the show: almost one in every three grades awarded to our girls was grade 9; over half of grades awarded to girls were 8 or 9 (A* equivalent); almost three quarters of grades awarded to girls were 7, 8 or 9 (A* or A equivalent); 90 per cent of grades awarded to our girls were 9-6 (A*, A or B equivalent).
The school also achieved close to a 100 per cent pass rate with 99.8 per cent of grades awarded 9-4. Top performers included locals: Liv Reeves (twelve 9s), Sapphyre Mills Kennelly (eleven 9s), and Izzy Skarbek (ten 9s) who collected 33 grade 9s between them.
'Year 11 pupils have worked their socks off under challenging, changing conditions, to achieve a set of results of which their parents and teachers can feel proud. Our continued exam success demonstrates that the targeted investments in teaching and learning we have made in recent years are paying dividends. Exam grades have risen across the board in line with expectations: a testament to an educational community dedicated to the pursuit of excellence. Amid all the hype and confusion surrounding this year's exam season, pupils should be congratulated for the excellent outcomes they have to show for their diligent work. Our healthy, balanced approach leads to pupils fulfilling their academic potential while developing body and mind through community service, creativity, sport, and teamwork,' said headmaster Tom Lawson.