Five great reasons to do the Kings Bournemouth Revision Camp this summer
09 Apr 2021
In Summer 2021 we will be offering a brand new and exciting revision programme at our school in Bournemouth.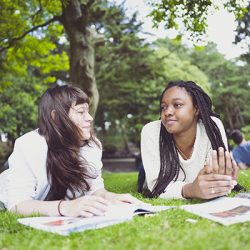 The course is for students who would like to revise either GCSE or A-level subjects in a way that is designed to really bring the curriculum to life.
It offers an ideal way to fill in any knowledge gaps and work on exam techniques, whilst at the same time having fun and engaging with the beautiful facilities and locations on our doorstep.
Available for a minimum of 1-week, the course will be tailor-made to the requirements of each specific student, and offers the following benefits.
Expand subject knowledge and fill in learning gaps
The course offers an excellent chance for students to catch up with teachers in person and ask any specific questions they have relating to curriculum before the new term begins, so that they are fully prepared and ready to hit the ground running.
We will tailor-make the programme based on students' individual needs, focusing on the key topics and subject areas they wish to improve.
Reinvigorate subject enthusiasm
The course combines revision in core subjects with a lively and engaging programme of team games and outdoor activities designed to bring the curriculum to life.
Particularly after a year of learning in a less interactive style than many students are used to, this will provide an ideal opportunity for them to re-discover the passion for their chosen subjects, some of which may have waned throughout the challenges of lockdowns.
All activities are wrapped around, and interact with, our classroom-based teaching. Students will be up and out of their seats, engaging and interacting with the beautiful facilities and locations on our doorstep; the parks, forest and the beach.
Socialise and enjoy the Great Outdoors while learning
The programme will offer students an excellent chance to experience one of the UK's most beautiful spots and enjoy being outdoors in the summer with friends and classmates (from around the world and within the UK) before returning to largely class-based learning.
Especially after this difficult year of reduced access to friends and peers, and limited time outside, this will be a precious opportunity to make up for lost time.
Try new activities and enhance soft skills
There will be a range of interesting and exciting activities offered as part of the programme, many of which will also offer students the chance to hone their so-called 'soft' skills, such as team work or leadership – great skills to be able to incorporate into university applications as well as everyday life.
Some of the activities offered include raft-building, orienteering, bushcraft, camp building, rounders, basketball, capture the flag, beach volleyball as well as external visits to local companies and talks by employers.
Hone techniques for exam success
As well as focusing on subject content, we will also help every student develop and improve their exam technique. This will ensure their increased confidence, meaning they return to school in September ready to achieve and well prepared for the rigours of any academic assessments that await.
Read more about the GCSE and A-level Summer Revision Camp at Kings Bournemouth here: https://www.kingseducation.com/uk-uni/gcse-and-a-level-summer-camp