Forces Fitness at St Clare's
09 Jul 2021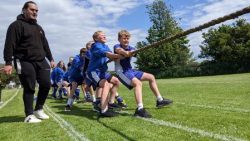 We were delighted to welcome Forces Fitness to St Clare's Senior School last week and the team delivered an exciting and inspiring day of health, well-being and resilience sessions for our students from Year 7 to Year 13.
Former military physical training instructor, Sean Molino, who was with the 1st Battalion Welsh Guards and is now MD of Forces Fitness Ltd visited the school on Wednesday, 26th May with his team of Forces Fitness instructors who are either ex or serving members of the armed forces.
Sean and his team of instructors talked about the Armed Forces, health, well-being and also put the students through a number of military style command tasks and fitness challenges including mini assault courses, tug of war competitions, gladiator style challenges and team-building challenges.
Headteacher, Helen Hier, explained, "We want our students to develop mental and behavioural agility, where they can show flexibility in different situations. Asking for help is just as important as showing grit and determination. At St Clare's we aim to develop the whole child so that they can cope in different contexts beyond the classroom. This is an important aspect of our enrichment curriculum that we want to grow and develop. Forces Fitness has supported us greatly in this area. Our students are not just being given exciting and memorable experiences that will increase their wellbeing. We firmly believe that our pupils are making links and building on their successes beyond these sessions, therefore increasing their motivation to develop in all areas of their life. We recognise that this past year has been so challenging for all students, so we planned this Enrichment Day for them all to enjoy with their friends before half-term."
Fundamental to a Cognita education is developing students who are prepared for successful futures AND enjoy the moment!
Within and outside the classroom we provide opportunities for our students to develop skills and character traits to positively enhance and shape their future and those of others…