Gap Year Programmes at OISC
17 Nov 2020
We arrange study abroad programmes for individuals and for groups. These are taken in the form of a semester or year in Oxford and are a wonderful opportunity for students to discover the joys of Oxford, whilst continuing their education and broadening their horizons.
Some students take these programmes to enhance their existing studies, and possibly gain accreditation from their own high school or college.  Others see the Oxford programme as an exciting way to widen their cultural and educational experience as part of a gap year.Some students love the city so much that they take the programme in order to enter a British university and stay in Oxford!
These programmes are very much tailor-made – they are unlike any other academic programme we offer.  As such, fees are by agreement and based on the programme options.  Some students choose to fill their schedule with academic study, aiming to work towards a qualification, whilst others choose to explore lots of different subjects which they have never studied – for example, learning a new language or looking at a new period of history.  Other students prefer to focus on the cultural, taking options such as Art, Creative Writing or Literature.  The most important thing about these courses  is their flexibility.  We allow our study abroad students to shape their own programme in order for them to get a truly personalised, diverse experience.
We are able to arrange for students to attend certain university lectures and to join the famous Oxford University Union and Debating Society (www.oxford-union.org).  Students taking a gap year programme should expect a culturally enriching and educational experience which they will remember forever.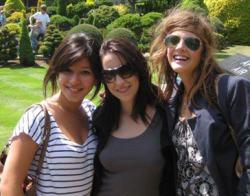 "I would like to thank our teachers for their work, because I really enjoyed their lessons!. They gave their heart and soul to their work. Teachers like this, caring ones, are very rare. We were very lucky to have them," – Lev, Gap Year student, Ukraine.
If you are considering a study abroad year or semester, please write to us first with full information about your present studies and future plans and an idea of what you hope to achieve during your time in Oxford.  One of our staff members will be happy to offer you advice and to help you build the programme you are looking for.  Where relevant, we will then contact your current school or college counsellors in order to best understand your current academic position, and to arrange accreditation where necessary.  All students taking a gap year or study abroad semester receive full accreditation from OISC, with letters of recommendation and references to their school or college to ensure they receive credit.