GB Gymnast Inspires Winterfold children
29 Apr 2020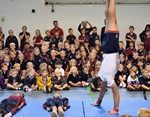 GB Olympic Gymnast Kristian Thomas and Jack Rutter, Captain of the GB Paralympic cerebral palsy football team, visited Winterfold as
part of a Sports for Schools initiative.  Children from Year 8 to Reception joined in with exercise circuits, followed by an inspirational assembly for the whole School.
Kristian Thomas rose to fame when he was crowned senior British champion.  In 2012, he was part of the British team that famously won Olympic bronze in London before he came back from a minor injury in 2013 to take bronze on vault at the World Championships.  As Captain of Team GB's gymnastics squad for the Olympic Games in Rio 2016, Kristian helped the team finish 4th and made the individual floor final.
Following an enjoyable morning of exercises coached by Kristian and Jack, the entire School listened attentively as Kristian spoke of his life as a gymnast, culminating in his competing in two consecutive Olympics.
The ensuing gymnastic demonstration was breathtaking and the children's reactions were a fitting sign of how much they were enjoying it.  They were particularly in awe of the children who were prepared to lie down for Kristian to somersault over them and Mrs Toms who, when asked to join them, was a very good sport and did so too.
Both sportsmen had advice for the children; Kristian commented "Dream big, work hard and listen to your Coach" and Jack's recommendations were "teamwork, respect and self-belief."
Mrs Julia Humfress, Director of Sport said "it was a wonderful morning. The children were thoroughly inspired. Kristian started gymnastics from the age of five and has achieved so much.  His personal highlight was to win bronze at the London Olympics. It was lovely to hear his story and watch his gymnastics demonstration. It was great to show the children that there really is a sport out there for everyone".
Following a very energetic morning, Isla and Ed then interviewed the athletes in the Radio Room for a podcast which will soon be on Winterfold's YouTube channel.