Hats off ! – St Clare's School
02 Aug 2021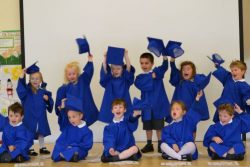 The end of upper nursery marks a significant achievement at St Clare's, Porthcawl as the boys and girls prepared to move up into Reception in St Clare's Prep in September.
The 'Busy Bees' (Rising 4's) celebrated their nursery graduation in true St Clare's style. The children looked so smart dressed in their royal blue caps and gowns and they received their graduation scrolls and certificates on stage as part of the ceremony.
"It was a very emotional day but we are all so proud of the children and wish them well as they set off on their next adventure in our Prep School," said Headteacher, Helen Hier whose own daughter was one of the graduates.
In these unusual times, of course, parents and grandparents could not be invited to attend this milestone event but they were delighted to receive a framed photograph together with a video of the ceremony.