International Success for Wellington College Gymnast
28 Apr 2020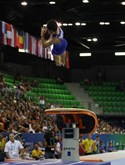 2019 was an extraordinary year for Wellington gymnast, Jasper S-G who in April competed in his first international for Great Britain in the 24th Junior Team Cup in Berlin. As well as contributing to the Under 18 team's overall success, Jasper won an individual Bronze in the Vault. This achievement led to more international experience and eventual selection for the inaugural Junior World Championships, in Gyor, Hungary. On the final day of the championships he once more competed in the Individual Vault, his stunning score of 14.183 again securing Bronze.
Consistently good performances throughout the year in all disciplines, but especially on Floor, Pommels and Vault ensured selection for the Great Britain Under 18 National Squad, where he trains each month with the nation's top gymnasts in preparation for this year's European Championships, the biggest competition for his age group.
We are all excited to see where gymnastics takes Jasper next, and congratulate him on his astonishing achievements, which are all the more remarkable when considering his outstanding set of GCSE results and the great start he has made to his A-Level studies!