Kind-hearted Year 7 pupils from Bromsgrove Prep School have raised a staggering £11,636.23 for Primrose Hospice through their Flourishing Fivers initiative. 
08 May 2020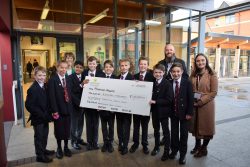 Volunteering encompasses much of the Personal, Social, Health and Economic elements of the Year 7 curriculum and the idea of Flourishing Fivers for Primrose Hospice arose at the planning stages of this unit of work. There are currently 122 pupils in Year 7, so initially, the Parents' Association kindly loaned half of the £610 and Primrose Hospice, the other half.
Talking about the initiative, Caroline Leather, Teacher of PSHE said "All 122 pupils were given a fiver and Sarah from the Hospice came to talk to each class about the hospice movement and how they rely on volunteering to raise funds. A few ideas were given and a big prize for the child who raised the most money.  On Monday 9th December, we handing over a giant cheque for a giant sum in assembly. I have been completely thrilled and stunned by the energy and enthusiasm – a real entrepreneurial buzz".
Mrs Leather and the children were interviewed live on Elliott and Toni at Breakfast – BBC Hereford & Worcester Radio https://www.bbc.co.uk/sounds/play/p07ttdyv on Monday 9th December (the children feature 2hr 20 mins in, at 8.20am).
The following is a Flourishing Fiver story from a group of boys:
"It started with the original £15 – Frederick, Monty & George had put together their £5s. They spent £27 on chocolate for a hamper to raffle at school (they borrowed £12 off the bank of Mum which they paid back!). This raised approx £140. They then bought 9 frames costing £18 and made pictures using the stones & driftwood which they had collected from the beach in Tywyn, Wales, which they sold for £10 each".
Using some of the profit they had raised, the boys bought ingredients for cakes and they had a big baking session making cupcakes, traybakes & cookies, with Amelia & Hugo helping. Saturday afternoon was spent bag packing in Waitrose with Henry & George, Hugo & Amelia also helping the boys, all in uniform. They looked very smart, talking & helping the customers. This raised approx. £440.
Sunday morning was cake sale day at Rowberry's in Chaddesley Corbett. Again, the children did really well raising over £330. The total sent to Primrose was £915 plus £30 that has been paid directly with gift aid by family – therefore £945! They have loved this project and are deservedly very proud
Two ingenious pupils, Jack and Georgia got together and formed a company – J & G Accessories. Jack came up with the idea for Big Bang Keyrings. He and his family go Clay Pigeon Shooting and he decided to upcycle empty shotgun cartridges so that he could make an environmentally friendly product. Friends and family were able to choose their colour and Jack would custom make a keyring for them.
Georgia decided to make scrunchies from upcycled duvet covers in a variety of different colours and designs.  Both products were sold at various village Christmas fairs, at Welford on Avon, Talton Mill and Pebworth.  They were also sold at fishing shops, Costa Coffee, hairdressers and even the village pub.
When asked what they had learned from the experience, the list was endless! Jack learned valuable sales techniques, how to create a logo, colour coordination, quality control and even learned about Excel spreadsheets!
Georgia learned how to use a sewing machine and create a logo, how to set up a stall to create eye-catching designs, that chatting to people at the fairs is fun, and ultimately that you have to work very hard to earn money.  The two entrepreneurs have made a whopping £1,326.50 over the last few months.
Thirteen pupils raised an astonishing £6,154.70 between them and many more raised over £100 each. Almost all of the Year 7s made their fivers flourish which was amazing.
Freddie Slater was the outright and deserved winner, having made £916 from his exquisite Primrose badges. His teacher Mrs Leather said "He is a very driven and extremely business-minded young man!"
Commenting on the initiative, Sarah Harris from Primrose Hospice said "I am just absolutely astounded at the incredible amount raised by the Year 7 pupils. Not only have they shown kindness, drive and entrepreneurship but they have proven just how amazing young minds can be. The phenomenal amount raised by these young people, will ensure that we can continue to provide care and support to people with life-limiting illness living within their local community, and their families. Thank you so much".
Jacqui Deval-Reed, Headmistress of the School said "we are aIl completely and utterly bowled over by the entrepreneurial spirit shown and the lengths our pupils have gone to for Primrose Hospice. They have really embraced the challenge – we never imagined they would reach such a fabulous total. We're very proud of them".