Kings Bournemouth: Summer update
23 Jun 2022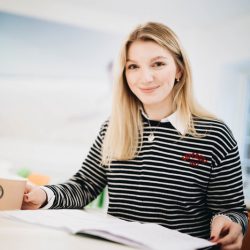 It has been a very busy time for students preparing for their next steps, and we are delighted to see so many of them receiving offers from their top choice universities.
Below is a summary of the news from Kings Bournemouth this spring and summer.
Excellent university offers:
2022 represents another year of success for Kings Bournemouth students and we are delighted to share the following highlights:
Top university offers include: Imperial, Durham, UCL, Bath, Lancaster, Exeter, Bristol, Glasgow, Leeds, Manchester, Loughborough, Sheffield, Nottingham, Royal Holloway, Aberdeen, Liverpool. and Newcastle.
A very wide range of degrees: Subjects include Medicine, Veterinary Nursing, Pharmacology, Chiropractic, Architecture, Electrical Engineering, Civil Engineering, Computer Science, Physics, Finance, Business and Management, Economics, and Fine Art.
Students on all courses have received offers to study at some of the most prestigious universities for their chosen subject area. Here are just a few of the offers and, where applicable, the universities' subject ranking.

Medicine/Science/Engineering

Harriet (A-levels): accepted to study Medicine at four universities including Bristol (#5), Manchester (#28) and Plymouth (#31).
Lewis (A-levels): offers to study Medicine at King's College London (#23) and Manchester (#28).
Hoang Lien Huong (A-levels): accepted to study Pharmacology/Pharmaceutical Sciences at four universities including Bath (#7) and Nottingham (#7).
Seungyeon (A-levels): offers to study Physics at Durham (#4), Manchester (#6) and UCL (#15).
Armend (A-levels): accepted to study Civil Engineering at four universities including Imperial (#4), UCL and Glasgow (#10).
Business/Economics

Lancelot (International Business Foundation): offers to study Business/Management from universities including Lancaster (#14), Bristol (#26), and Sussex (#27).
Wilson (International Business Foundation): accepted to study Business/Management at Durham (#9) and Accountancy/Business Management at Aberdeen (#16).
Sabrina (ALF): offers to study Economics at Leeds (#10) and Lancaster (#15).

Architecture /Art & Design

Amela (ALF): offers to study Architecture from four universities including Kent (#16), Oxford Brookes (#12) and Sheffield (#7).
Hoi Lam (A-level): accepted to study Prosthetics and Special Effects Design/specialist Hair and Makeup design from Arts University Bournemouth, Southampton Solent, University College Birmingham. 
GCSE and A-level Summer Revision Camp
In Summer 2022, the wider group of Kings colleges will be hosting a new and exciting revision programme at Kings Bournemouth. The course is for students who would like to revise either GCSE or A-level subjects in a way that is designed to really bring the curriculum to life.
It offers an ideal way to fill in any knowledge gaps and work on exam techniques, whilst at the same time having fun and engaging with the beautiful facilities and locations on our doorstep.
Find out more here: https://www.kingseducation.com/uk-uni/gcse-and-a-level-summer-camp
Wednesday afternoon enrichment
Academic students at Kings Bournemouth now have extracurricular or 'enrichment' activities for a couple of hours on Wednesday afternoons. Currently, they are able to choose from a number of different options, which include Gardening Club, Drama and Book Club, Running Club, Photography Club, Debate Club, Mindfulness and IELTS/ Conversation Club.
Whilst many enrichment options give students the chance to pursue interests within a specific subject or hobby, or even develop new ones, they are also great for developing softer, more transferable skills. These can include skills such as public speaking, working in a team and even time management skills.
Find out more: https://www.kingseducation.com/kings-life/outside-the-classroom-the-importance-of-extracurricular-activities