KING'S ROCHESTER PUPILS TO ATTEND HOLOCAUST MEMORIAL DAY WEBCAST  
22 Jan 2021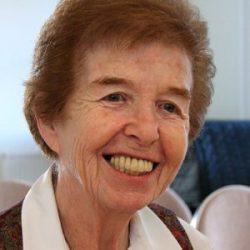 On Tuesday 26th January pupils at King's Rochester will watch a live webcast with Eve Kugler, BEM. This event, organised by the Holocaust Educational Trust, is part of the commemoration of Holocaust Memorial Day on Wednesday 27th January.
Eve who was born in Halle an der Saale in Germany has recently celebrated her 90th birthday. When she was just seven years old when Kristallnacht* – the night of the broken glass – occurred in 1938. Her family was torn apart by the Nazis: her parents survived concentration camps, her youngest sister was forced into hiding, and Eve and her other sister were sent to foster homes in America. Remarkably, in 1946 they were all reunited.
During the webcast, Eve will tell her story in the context of the Holocaust, which saw the murder of six million Jews by the Nazis and their collaborators. Until the Covid-19 crisis Eve regularly visited schools in the UK to share her testimony. She will now be speaking remotely at the Holocaust Educational Trust event.
Deputy Headmaster of King's Rochester Preparatory School and History Teacher, Mr Paul Medhust said "This is a rare opportunity for pupils to hear a Holocaust survivor speak first-hand and to reflect on this dark episode in our recent history. A study of the Holocaust is an integral part of the Key Stage 3 History syllabus, but an understanding of this genocide transcends classroom studies, and is doubly important as we see a rise in hate-crime and recent events in the USA show us that we must never take our freedoms for granted."
After the presentation, pupils will be invited to discuss some of the issues raised during the webcast in subsequent workshops. The Holocaust forms an integral part of the History curriculum at King's Rochester and the School works with the Holocaust Educational Trust to mark the Memorial Day each year. In 2018, King's welcomed fellow survivor Rudi Oppenheimer to give a similar presentation on his time in Bergen-Belsen.