Tormead School is Celebrating!
14 Jul 2020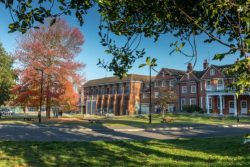 Tormead School is celebrating! We have been recognised as one of the very best schools in the world and become accredited as a High Performance Learning World Class School.
The award, only given to 11 other institutions globally, recognises schools at the forefront of educational thinking with exceptional outcomes for students. Tormead now joins an elite global community of schools from Dubai to Mexico, who routinely share practice and support each other.
Professor Deborah Eyre, Chair at High Performance Learning (the accreditation body) said:
"Truly world-class schools understand that while grades are important, producing students who are intellectually and socially confident, work-place and life-ready with a global outlook and concern for others is our true aim. Tormead has worked hard to strengthen its practice and to move closer to the vision of every child becoming a high performer."
Staff and girls at Tormead School went through a rigorous and demanding two-year journey supported by the HPL organisation, to encourage all children to achieve success academically and throughout their lives.