Leighton Park and All That Jazz!
22 Apr 2020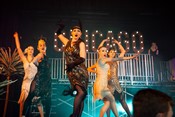 Trial and tribulation augmented by a phenomenal soundtrack thrilled the audience from 4th to 7th February at Leighton Park School's Senior School production of Chicago!
Broadway's longest running musical by Fred Ebb, gave students a chance to explore music, murder and media hype, following the lives of night club vixen, Velma Kelly, aspiring starlet, Roxie Hart, and their self-serving but successful lawyer, Billy Flynn. The School's Main Hall was transformed into an Art Deco 1920's night club full of sequins and glitz, as the audience followed Roxie's quest for fame.
Upper Sixth student, Nikki who plays lead femme fatale, Velma, commented in the run-up to the big night, "It has been an incredible opportunity and so much fun, seeing it all come together is so rewarding." Velma's arch-rival and ultimate friend, Roxie Hart, played by Lower Sixth student, Megan, reflected, "It's fun – a lot of work, but it's nice to work with the whole cast and become like a family on the journey together." Tomi (Lower Sixth), who plays charismatic lawyer, Billy Flynn, reflected on his initiation into Leighton Park's biennial musical tradition, "I love the razzle dazzle of this show. I'm getting an amazing experience, which I am able to share with loads of wonderful people."
Peter Scoggins, Director and Designer of the production added, "This is an ambitious choice of show for any school to put on and fortunately we knew we had the talent and the commitment in our students to make memorable performances. The cast have done such a good job combining challenging routines with incredible vocal performances."
It was clear that the cast's commitment was rewarded as they delivered a stunning performance night after night. Mirroring the excellence of our students on stage, were the efforts of the backstage crew, the hair, make-up and costumes and the superb band.
Rosemary Scales, Musical Director said, "I have been so impressed with the way our cast have taken on this impressive musical score. They are sparkling, ironic, insightful, comedic and dazzling in equal measure. The students playing in the band are also gaining extremely important and challenging performance experience – playing in a pit band is like no other musical opportunity available."
Trumpet player Oliver (Lower Sixth) noted, "It's been an incredible experience playing in the pit orchestra. Live music really brings a show like Chicago alive and I've really enjoyed playing alongside a group of such talented musicians and supporting an amazing cast and crew."
Beth Butler, Choreographer, praised the cast commenting, "What has struck me is the positive manner in which students have approached the choreography. Fosse dancers have to grab the audience with small gestures and make it look like they are not working at all. I truly believe these dancers have achieved this."
As Shelly, an enthusiastic audience member put it: "The performance exceeded all of my expectations and I felt it was the most amazing musical in so many aspects! It was pure pleasure watching the entire cast work together – mesmerising and at the same time had me smiling throughout the performance. Hats off to you for your hard work and dedication. "