Made in Chelsea star supports inspirational schoolboy to raise thousands to help another child – Wellington College
09 Jun 2020
After a life-changing operation, inspirational schoolboy David Lofthouse is determined to raise thousands to help another child.
When it comes to serious challenges, then perhaps there is none tougher than that which faces sixteen-year-old schoolboy David Lofthouse, who has set himself the goal of completing a 5K walk, at Wellington College, Berkshire. David hopes to draw attention to his campaign to raise £70,000 to fund Dorsal Rhizotomy Surgery for a person, like himself, with cerebral palsy.
Despite the challenging times we currently face, David is just as determined to complete the walk on Tuesday 24th March. In line with new national guidance, we are putting further measures in place to ensure that David will complete the challenge safely.
At the age of two, David was diagnosed with Cerebral Palsy Spastic Diplegia, which mean he would never be able to walk independently. However, as a young boy, David underwent life-changing Dorsal Rhizotomy surgery. This treatment substantially improved his condition and quality-of-life. Including accommodation and physiotherapy, the treatment costs a staggering £70,000 per person. In order to help another child who cannot afford such a vast sum David and his friends aim to raise £70,000 for the Cerebral Palsy Trust. The Cerebral Palsy Trust (CPT) has remarkably been set-up by David and his young friends and with the help of international rugby star and media celebrity Will Greenwood.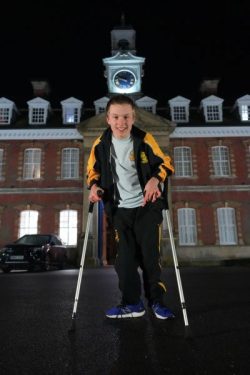 David's inspiration for his challenge is Wellington College's annual 5K Kingsleys race, where more than 1,000 students and staff weave their way through the 410-acre site, culminating in a plunge through Swan Lake.
Next week, David will attempt the full course, including the lake finale. Supported by a small team of close school friends, he will start his challenge at 2am and hopes to cross the finish line 13-15 hours later. David started his training in September when he could barely complete 1k on a treadmill but has been working exceptionally hard and has now completed a 3K walk.
David Lofthouse said: 'As I had the surgery when I was a young child, I realised the difference it can make to a child's life. I wanted to give a child, who cannot afford it, the same opportunity I had. With the support of the Wellington College staff and past and present pupils of Wellington College, I knew I could achieve this goal.'
James Dahl, Head of Wellington College said: 'Those of us who are lucky enough to know David, and see the courage with which he has tackled every school day at Wellington College since he started three years ago, are under no illusions as to the scale of the challenge – but will be cheering him on every hard-fought step of the way.'
David's story has understandably touched the hearts of many, including some well-known celebrities like Will Greenwood, Ellie Bamber, Dan Carter, Jonny Bairstow, Jason Robinson, Gareth Thomas, James Haskell and Olivia Coleman, who have all sent messages of support. It has in particular caught the attention of, Made in Chelsea star Josh Patterson, who came along to support David in his most recent training walk last Thursday evening.
Josh Patterson said: 'I can tell you first-hand, he will smash it!'
David Lofthouse and the Cerebral Palsy Trust (CPT) have set an ambitious target of raising £70,000. Please give generously.
To donate to the fund via JustGiving please visit https://www.justgiving.com/crowdfunding/cpt
To find out more, follow the trust on Instragram @cerebralpalsytrust