Mayor of Winchester presides at new study centre at St Swithun's school
13 May 2022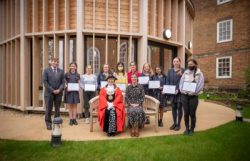 St Swithun's school was delighted to welcome Cllr Vivian Achwal, the 822nd Mayor of Winchester, to preside at the first official event in their stunning new Jill Isaac Study Centre. She presented students with certificates at the Jill Isaac Festival of Scholarship.
Nine students of the school were recognised for their extraordinary work in the fields of science, English literature, history, geography and biology. Amongst the awardees were the winner of the Hampshire Young Poets Competition and a young published author. The girls all presented on their particular project before the mayor honoured them with their awards.
The stunning study centre is a tribute to Jill Isaac, a former student who died in 2017 and was generously donated in her honour by her husband Malcolm.  It will be used by members of the school's upper sixth who are studying as they prepare for their A levels and apply to competitive universities.
Headmistress Jane Gandee said: "It will truly be a privilege to study there. Malcolm's vision, shared wholeheartedly by the school, is of a soaring space to encourage thinking and dreams of academic success. This is not a room for a quick Google search or a thoughtless copy and paste from the internet. It is a room to encourage slow, thoughtful study, original thought, grappling with complex concepts, genuine academic endeavour and time away from our devices. We are delighted that Malcolm has also given us permission to present the annual Festival of Scholarship Award in Jill's name and we look forward to many more presentations of academic endeavour in the years to come."
Photo caption: The Mayor of Winchester and the Festival of Scholarship award winners outside the new Jill Isaac Study Centre at St Swithun's.