MUN-ers success in Cambridge – Queen's Gate School
12 May 2020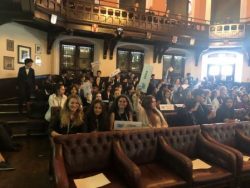 From Friday 13-Sunday 15 September, ten QG pupils participated in the annual Cambridge University International Model UN conference, where a total of 410 delegates met from schools across the UK and the rest of the world including Taiwan, Romania, Turkey, Singapore and The Netherlands.  They represented the delegations of China and Malawi in seven different UN Committees and lobbied, negotiated and argued strongly from the rostrum for their own resolutions, and worked together with delegates from twenty seven other schools from across the world to reach potentially world-changing decisions.
After a successful weekend of debate and discussion, proposing solutions to world problems ranging from the far right extremism to preserving endangered languages, and the rights of indigenous peoples to providing healthcare in conflict zones, it soon became clear at the closing ceremony that our delegation had, once again, performed well with gaining a number of individual awards: Jessica Ballard and Anna Ostoja-Petkowska won Highly Commended awards and Clara Cole gained a Distinguished award.
Maria Posada won the most coveted award; Best Delegate, and, as she represented China, she dealt well with the pressures of being the most significant country in her committee impressively. This recognition is all more magnificent as this is the third year Queen's Gate has won this prestigious award at the conference!
Maria is also this year's MUN prefect said 'There were many special moments in the weekend and I would like to highlight a few. Our delegation took full advantage of representing China, emphasising their views with the frequent use of proverbs, Jessica Ballard's favourite being 'experience is a comb given to us when we're bald.' We were all truly sympathetic to Amy Gillyon's coffee deprivation, although she lightened the mood with her daily rapping of AJ Tracy and her distinctive laugh. We were all shocked when Laura Finegold and Alexandra Cheytanova ordered a double portion of dough balls at Pizza Express and finished them all. Clara Cole almost went to the formal dinner at Wolfson College wearing mismatching shoes. Aurore Ashe-Taylor won the joke award for being most likely to become a climate activist. Reem Thakur managed to win the full admiration of her committee and was given a flattering joke award linked to her attractiveness and finally, Stephanie Goreli did a sterling job in the General Assembly when she posed some very pertinent points of information.'
Head of Sixth Form, Dr. Lee commented 'Throughout all committees, Queen's Gate delegates represented themselves very well, engaging with their topics and making some strong criticism of other schools' clauses. The four awards brought home by Queen's Gate delegates were testimony to the hard work and research which they put in behind the scenes, and importantly for the standard of their contributions to the debate. The QG MUN team is growing both in size and ability, and every member should be commended. We look forward to our two other conferences this term which will be held at Godolphin and Latymer School and the University of Oxford.'