New Computer Science A-level launches at Kings Oxford
19 Mar 2021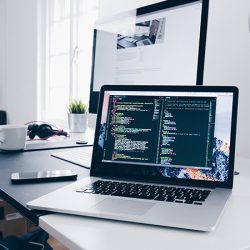 Kings Oxford are excited to be able to offer a new A-level in Computer Science from September 2021. An increasingly popular subject, this A-level will develop students' problem-solving skills and introduce them to foundational programming and theoretical skills that prepares them well for a degree in Computer ScienceStudents will study a range of aspects of Computer Science including fundamentals of programming, analysis, computer systems, organisation and architecture, communication and networking, data bases, functional programming, algorithms and big data. Studying A-level Computer Science will help you develop practical skills, provide opportunities for creativity and innovation and is well regarded by many universities.
Students with Computer Science A-level can progress onto a huge range of undergraduate degrees, including:
Computer Science
Artificial Intelligence
Game Design and Production
Engineering
Cybersecurity
Business and Computing
Information Systems and Management
What is Computer Science?

Computer Science is, at its core, the study of computation and information and brings together disciplines that include Mathematics, Engineering, Sciences, Psychology and Linguistics. It includes both the study of theoretical algorithms and the practical problems involved in implementing them through computer hardware and software. The study of Computer Science has many different branches, including artificial intelligence, software engineering, programming, data science, cyber security and computer graphics.
In today's digital age, most industries are completely reliant on data, software and IT. Computer science impacts all aspects of our lives — from scientific research to transport, banking, communications, medical equipment, and even our household appliances.
With the reach of technology set to increase exponentially throughout the coming decades, the demand for graduates who are skilled within fields such as Computer Science is likely to continue to grow.
The Computer Science 'Skills Gap'
Computer science represents one of the most extreme examples of an industry with a skills gap globally, with the worldwide shortage of IT professionals estimated to be around 1.8m in 2020.A recent report by Microsoft, titled 'Unlocking the UK's potential with digital skills', revealed that 80% of UK leaders believe investment in digital skills will be important to the country's post-Covid-19 economic recovery. In the EU, the number of ICT (Information and Communications Technology) specialists grew by 36.1% over 10 years from 2007–2017.This skills gap represents a unique opportunity for current high school students to carefully plan their subject choices and undergraduate studies and make themselves indispensable to future employers.
Computer Science careers

Some of the most popular careers for those with a background of studies within Computer Science include:
Web Developer
Network Engineer
Game Developer
Cyber Security Analyst
IT Consultant
Business Analyst
With the demand for qualified IT specialists being so high, careers within the field of Computer Science are often very well-paid with starting salaries above the average for UK graduates.Having a computing degree will provide you with the knowledge, problem-solving skills and logical thinking capabilities that serve as a competitive advantage across a whole range of careers. If some of the more traditional routes mentioned above don't appeal, a background in computer science can also open the door to areas such as:
Teaching
IT training
Business analysis
Entrepreneurship
Management
Technical writing and journalism
Qualifications in Computer Science may also open to the door to opportunities for internships at some of the world's most famous tech companies such as Amazon, HP, Microsoft, and Google — a great way to get hands-on experience in established companies that will help you to stand-out to future employers and may sometimes lead to permanent job offers.
We're excited to launch this new A-level and expect it to be a popular choice amongst Kings Oxford students.
More information about the Computer Science A-level, and A-levels at Kings in general can be found via the following resources:
Computer Science A-level: Factsheet