New Forest School at St Clare's
09 Jul 2021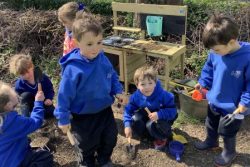 We are delighted to announce that St Clare's School Nursery has launched Forest School. We have a fantastic mini woodland area within our eleven acres of beautiful grounds so it's the perfect location for the children to explore, have fun and learn.
Forest School is an approach to learning that takes children into the great outdoors whatever the weather to explore the natural environment. Children learn through playing in the mud and the hands-on Forest School approach gives them plenty of opportunities to do just that. Our Nursery teacher, Carmen Vanderbrink, is a trained Forest School practitioner but she encourages exploration and discovery to support them to take risks.
For children, Forest School activities develop confidence, self-esteem, imagination and physical ability as they are allowed to test their limits in the natural world. The hands-on learning approach allows children to develop skills that may be difficult to teach in the classroom. Central to Forest School is to keep active with plenty of activities that enable children to develop motor skills.
Forest School is a great addition to our Nursery Curriculum which already includes weekly Spanish and ballet.
Helen Hier, Headteacher