New grassroots to pro academy tennis programme at St Swithun's
13 May 2022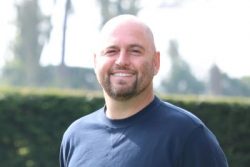 St Swithun's in Winchester has teamed up with Delgado Tennis to help develop the next generation of elite tennis stars. Children of all ages and abilities will have access to top level coaches as part of a tiered development programme.
From this summer, St Swithun's prep school pupils will be able to join after-school, weekend and school holiday group coaching sessions. Senior students will have the option to progress through Extra Tennis Coaching, Delgado Tennis Academy and the Delgado Tennis Advanced Academy, gaining match play, technical and tactical skills and strength and conditioning training depending on their needs and level of experience. Individual, paired or group sessions will be delivered throughout the day and during weekday evenings.
Paul Delgado owns Delgado Tennis and Living Tennis with the involvement of his brother and co-director Jamie Delgado; a coach to top 10 world ranking players. Paul said: "our ambition is to establish one of the top five UK school tennis academies at St Swithun's. We are aiming to develop keen and experienced tennis players of all ages through the school, and through our holiday provision to extend elite coaching provision to the local community including adults".
Head of St Swithun's Jane Gandee said: "we have several international sportswomen across a number of sports amongst our student body, and hopefully tennis will soon be one of them. We welcome Paul Delgado and his team".
Ends
Image: Paul Delgado, director of Delgado Tennis which has launched a new tennis programme at St Swithun's, Winchester