Perseverance and determination get King's Gloucester pupils the top grades
26 Aug 2021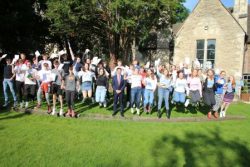 Pupils at the King's School, Gloucester celebrated the school's best ever GCSE results with one in five results at the top Grade 9 and 60% achieving Grades 9-7. Furthermore, 25% of the pupils gained four or more Grade 9s.
Pupils performed well across a range of disciplines, showing the variety of talent at King's; over 80% achieved the top 9-7 grades in Design & Technology, Drama, Music and Fine Art as well as in the more traditional subject areas of History, Latin, Chinese, Physics and Religious Studies.
Headmaster, Mr David Morton commented, "I am hugely proud of the achievement of our Year 11 pupils. It is important to see beyond the statistics and instead to consider the perseverance and determination of these pupils, with the support of their teachers and families. To achieve these incredible results against the backdrop of the pandemic and the challenge of the repeated, new assessments that GCSE pupils faced is a wonderful achievement – we congratulate them all."
King's has a reputation for producing strong all-rounders who work hard outside of the classroom as well as in it. Amongst the pupils celebrating great results at the school are a national ballet dancer, a West End performer, a Welsh U18 Hockey player, an actor starring in the upcoming series Theodosia, several great musicians, first class sports men and women, superb artists and many more. This is also a year group which has shown a tremendous community spirit and charitable nature: four students have taken part in the King's Feeding Communities Project over the summer while another student volunteered 110 hours for charity resulting in him being given a local hero award.