Proudly #UnitedAgainstBullying – Slindon College
23 Nov 2020
Pupils and teachers wore odd socks last week for Anti-Bullying Week! Each House made a short presentation in Friday's assembly. It was streamed from various classrooms with readings, recorded music and displays created by each of the College's Houses.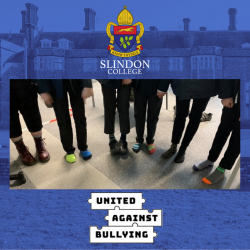 The message behind Odd Socks day is to encourage people to express themselves. To celebrate their individuality and what makes us all unique!
"This year, more than ever, we've witnessed the positive power that society can have when we come together to tackle a common challenge. 
Anti-Bullying Week is no different. Bullying has a long lasting effect on those who experience and witness it. But by channelling our collective power, through shared efforts and shared ambitions, we can reduce bullying together. From parents and carers, to teachers and politicians, to children and young people, we all have a part to play in coming together to make a difference. 
We're all a piece in the puzzle, and together, we're united against bullying." Martha Evans – Director of the Anti-Bullying Alliance
Slindon College is an inclusive environment where each pupil is acknowledged and respected as an individual. If you would like to find out more you can contact Slindon College here.