PUPILS DISCUSS UNCONCIOUS BIAS – KING'S ROCHESTER
03 Oct 2020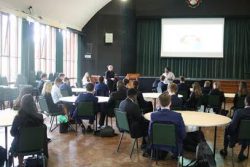 On Wednesday 30th September King's Rochester welcomed Mrs Jane Winter and Mrs Ethlyn Roy-Johnson from the Diocese of Rochester to lead the first of three Unconscious Bias sessions.
Pupils were encouraged to consider what unconscious bias is, its origins and the detrimental effect it is having on society. They discussed race, gender and sexuality as well as discrimination against physical appearance, age and disability.
Pupils who wished to share their stories were offered the floor and Mrs Roy-Johnson spoke openly about her own experiences too. To highlight some of the key points being discussed, the pupils were shown clips from Channel 4's 'The School That Tried to End Racism'. The thought-provoking session ended with a screening of 'Check Your Blind Spot' by poet Joshua Luke Smith.
The Unconscious Bias sessions in partnership with Rochester Learning, form part of the Personal, Social, Health and Economic Education (PSHEE) curriculum at King's which also includes the marking of important events such as Black History month and LGBT+ month, as well as Anti-Bullying week and Mental Health Awareness week.
Earlier this month, King's Rochester launched the Diversity and Inclusivism Alliance that will involve students and staff across the school.  The Alliance will promote pupil and staff forums, where issues of diversity and inclusion can be discussed. Led by the School Chaplain, the Diversity and Inclusivism Alliance promotes tolerance and respect and increases awareness and understanding of important issues.
Principal of King's Rochester, Mr Ben Charles "We are extremely proud of the rich diversity of our pupil population at King's, further enhanced by our international boarders. Such milestones as Black History Month will be celebrated, as is age-appropriate, in assemblies and school services. It is also our intention to invite relevant, inspiring speakers into School to continue the debate around these important matters."
Pupils at King's Rochester will be celebrating Black History Month with a variety of discussions, film screenings, and workshops throughout October.