Remote Learning Round-up – Slindon College
22 Jan 2021
Whilst the first term of 2021 hasn't started the way we would've hoped it hasn't stopped our dedicated pupils from getting stuck into their remote learning.
You can view the video snapshot of some of the activities our pupils have been up to on our Instagram …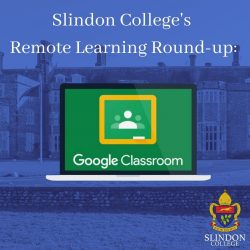 In Design Technology Year 7 pupils designed eye-catching and informative safety posters.
Year 7 Drama pupils have been immersed in spy-themed, escape room style challenges, whilst Year 11 watched live science experiments.
We are so proud of our pupils' continual dedication to their education during this time. Keep up the good work!
"Thank you so much for the amazing [online] PE lesson [my son] just had. I have never seen him so enthusiastic about PE. He cannot wait for next week!!"

Parent of Year 10 Pupil – January 2021
To keep up to date with the College's news don't forget to follow us on Facebook.
If you would like more information about the highly supportive learning environment we provide (even during lockdown and remote learning) please visit our website.