School-led partnership brings together 25 manufacturing partners to produce almost 19,000 face shields in a month!
28 Apr 2020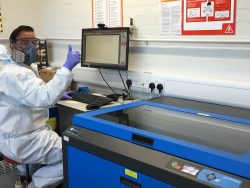 Unphased by the end of the Easter break, Leighton Park School's face shields hub and our dedicated partners in production have continued to make vital personal protective equipment (PPE) for the NHS and keyworkers in the healthcare sector.
18,713 face shields have now been distributed with orders for another 4,000 on the books. The success of the operation has only grown as teachers and students return to their lessons. There are 22 schools and three commercial organisations involved in the face shields initiative, so it was expected that there would be an inevitable reduction in the output as the demands of delivering distance learning became more pressing. But the commitment of all those involved is such that this has not been the case.
In anticipation of delivering the curriculum remotely for some time to come though, a few measures have been put in place to ensure demand for face shields can still be met and we can continue to support our incredible healthcare workers. Twenty furloughed Leighton Park support staff have volunteered their free time to assist with the continuation of the effort as teachers return to the preparation, delivery and marking of their virtual lessons. The University of Reading, based opposite Leighton Park School, has also become a major partner as their two large laser cutters are able to produce head bands for the shields in high volumes at a high speed. The Orthotics Dept at Royal Berkshire Hospital, also located very near to Leighton Park, is even exploring ways of producing an adapted version of our face shield design within their own workshop.
"We're still making between 1,200 and 1,500 per day and we've got loads of drivers involved," commented Mark Smith, Head of DT & Engineering at Leighton Park, "even Old Leightonians, current parents and some kind residents in the local area have volunteered to deliver face shields. It's such a community effort. I think everyone wants to play a part where they can. We're getting fewer individual orders but each order is for a greater volume so that obviously makes it easier to co-ordinate deliveries. We can quickly bundle them up and get them out; it's brilliant!"
Gareth Williams, Chief Commercial Officer at Choice Care Group, which delivers specialist care across 63 residential care homes and a further 23 supported living homes for people with learning disabilities, autism, mental health conditions and associated complex needs said: "With a frontline staff of 1,500 across the South of England, we were extremely grateful to receive 1,600 face shields from Leighton Park School.  This gave us enough shields for one shield per staff member, plus some cover for new staff as we continue to grow. With everyone getting their own shield and with each of the shields being re-usable post sterilisation, this significantly reduces the risk of cross-contamination and is a fantastic addition to our armoury in the fight against coronavirus. The local community support shown across this pandemic has been second to none and with the government facing their own PPE struggles, it's been amazing that Leighton Park School has been able to supply these critical goods for us.  On receipt of the goods the staff were over the moon and highly appreciative.  This pandemic continues to be a running challenge for the homes, but these selfless acts of kindness from the local community are what keeps spirits high and momentum lifted.  We all make a living by what we do, but we make a life by what we give.  The school should be very proud of that."
Anyone requiring face shields to help keep staff in their organisation safe should contact faceshields@leightonpark.com
Image: University of Reading Partner in Production