School raises over £24,000 for Read for Good charity
29 Apr 2020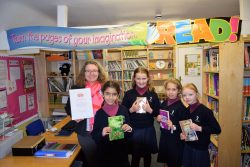 Kind hearted bookworms from Winterfold School in Chaddesley Corbett have been awarded an "Outstanding School" certificate for their continued support of the charity Read for Good.  The charity transforms the lives of thousands of children in hospital by providing them with new books, funded by Readathon donations. The regular supply of beautiful, brand-new books and visits from professional storytellers, offer children in hospital the chance to escape to other worlds in their imagination.
In a letter to Mrs Sarah Miles, Head of English at the School, the charity confirmed that the total amount donated to them since 1998 had reached a staggering £24,577.
Commenting on the certificate, Mrs Miles said "It is great to see that our pupils' hard work has been recognised. Reading for pleasure also benefits our children, from improving attainment and wellbeing, to promoting citizenship, character, resilience and empathy. We will be completing our next Readathon during February".