Slindon College lights up red for Dyslexia Awareness campaign
12 Oct 2020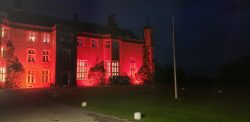 In support of Dyslexia Awareness last week, Slindon College was lit up red to show solidarity for the #GoRedforDyslexia campaign.
Headed up by 'Go Red' and in collaboration with charities like Succeed with Dyslexia, CReSTeD (Council for the Registration of Schools Teaching Dyslexic Pupils) and British Dyslexia Association, the #GoRedforDyslexia campaign is taking back the power of red.
"The dreaded red, which we've all seen throughout our education. The red marker used to highlight the mistakes with our work is all too familiar for dyslexics around the world. Dyslexia groups have chosen red in order to take back its meaning and globally promote dyslexia awareness in a fun and positive way." – Succeed With Dyslexia
As a CReSTeD school, this dyslexia awareness campaign is very important to Slindon. The College ensures that all pupils are fully enabled to achieve in life by incorporating multi-sensory stimuli into learning activities. This can help pupils absorb and process information in a retainable manner by involving the use of senses like touch and movement alongside sight and hearing.
In addition to multi-sensory activities the College provides integrated therapy for pupils that require additional support in their learning. Either in one to one or group sessions, the boys are given individualised education by our in-house Specialist Teachers, SaLTs, Social and Emotional Learning teachers and/or Occupational Therapists.
Our pupil's individual learning strategies are then shared with subject teachers to be implemented in each area so that the pupil is fully supported throughout the College.
To find out more about Learning Support at Slindon College please contact us.