Southbank Hampstead Climate Care Club's protest
15 Jun 2022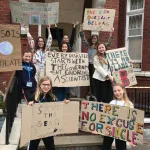 At Southbank, most ECAs are offered by staff and then taken up by students, but not the Climate Care Club at our Hampstead campus! This club is unusual in that some Grade 5 students specifically asked for the ECA to be set up. The motivation came entirely from the students, they devised the idea for the club themselves and asked Hampstead's Librarian Mr Louis Victor to help by being willing to be the supervising staff member.
The club has run all year and the student members have been the catalyst for all the activities undertaken. They have interviewed a top international climate economist, made seed bombs, created an art project and many other things. They are also working towards a Climate Care Club school Town Meeting.
On Friday, to coincide with Earth Day, the students in the Climate Care Club staged an act of protest at the school gates, with banners that they had made themselves, chants that they devised and badges with QR codes to guide onlookers to further information about Earth Day and Climate issues. We're so proud of our students for taking the initiative to set up Climate Care Club, and of all the admirable things they have done since it was launched!