Southbank Westminster connects with Francis Holland school to launch Pupils United
15 Jun 2022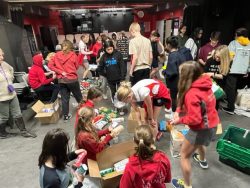 On Monday 21 March, Talia Kedar G9, as part of her Service as Action, staged a charity event in Portland Place Hall. She had previously given a presentation to G9 and encouraged others to join the event which was to collect donations for Chalk Farm food drive – but in connection with another school. The initiative is known as Pupils United and aims to support charities by collaborating with and connecting local schools.
Talia's message in the daily bulletin to the Southbank students ran as follows:
" Hi everyone! I hope you are having a good week so far. My name is Talia Kedar and I am the ambassador at Southbank of an organisation called Pupils United. Our aim is to unite schools around London through charity work. On Monday the 21st, next week, we are hosting a food and resources drive together with Francis Holland to support the Chalk Farm food bank. It would be super helpful if people from Southbank, teachers and students combined, could bring some non-perishable foods and toiletries! The more the better. There will be a box in the drama hall throughout all of Monday, so if you are bringing something please drop it off there! Thank you! "
Several G9 students joined Talia on Monday after school as we welcomed students from Francis Holland school. The group got to work quickly sorting the donations (of which there were plenty) and creating cards & messages so they could all be transported to the food bank by the parents.
The initiative was wonderful to see in action and witnessing our students making connections with others from a neighbouring school gave a real sense of community spirit.
Big congratulations to all involved but especially Talia!