Sports Roundup March 2021 – Cheltenham Ladies' College
10 Mar 2021
Webinar with GB Olympian Shona McCallin MBE
On Wednesday 24th February we were delighted to welcome Great Britain hockey player Shona McCallin MBE to our online College Community.
Shona took time out of her Olympic training schedule to give a presentation and answer questions from pupils. She kindly presented twice, once for Lower College and later for Upper College and Sixth Form. Both presentations had slightly different themes, and gave a taste of what it is like to be an elite sportswoman, from the decisions she made when she was a young girl to coping with setbacks in her pursuit of an Olympic gold medal.
We are very grateful to Rebecca in SFC2, who brilliantly introduced and then interviewed Shona; the Mintridge Foundation; Limitless; and, of course, Shona for giving up her time during a GB Hockey Training Camp to talk to our community. Below are the links to the recorded Zoom webinars and a link to a blog created by the Mintridge Foundation.
Webinar recording Lower College
Webinar recording Upper College and Sixth Form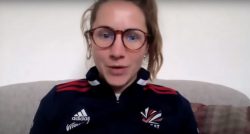 Lacrosse Virtual Fixture
Congratulations to Anna and Bea (LC2), Aida and Magdaline (LC3) and Izzy (UC4) who all participated in a Lacrosse Virtual Fixture. The girls completed a variety of different physical and skill-based lacrosse challenges, providing a great way to have fun and challenge themselves during lockdown. Well done!
Senior Sports Awards 2021
We are delighted to announce that former professional cricketer and captain of the England women's team Charlotte Edwards CBE will join Mr Parker and Mr Busby live on the morning of Saturday 13th March (10.30am to 12.00pm GMT) for the Senior Sports Awards. Charlotte will give a presentation and take part in a Q&A session before the awards are announced.
The annual awards ceremony will be delivered online so our whole Upper College and Sixth Form family can access this prestigious event.