Sportstar Siena is Harvard Bound
29 Apr 2020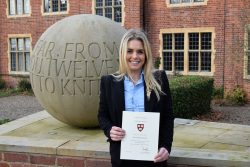 A Harvard education is something that a significant number of school pupils around the world aspire to. For one Upper Sixth pupil at Bromsgrove School, this dream will become reality next summer when she crosses the pond to join the class of 2024.
Competition is high, with over 40,000 applicants each year for approximately 1,600 places, so no mean feat for the pupil.
Siena is an accomplished alpine skier, having represented Great Britain at U14, 16 and U21 and an excellent hockey player who has gained 19 England Caps for the U18 team, the last being the prestigious 6 Nations Tournament.  It was Siena's hockey coach who suggested she applied for Harvard, however she plans to major in Biological Sciences, whilst keeping up her hockey in her spare time.
Commenting on her selection, Siena said "I feel so lucky to have this opportunity. When you've worked so hard for something, you can't quite believe it when you get it".