Tennis tour pro, Suzy Larkin, joins Eastbourne College as Performance Coach
08 Sep 2020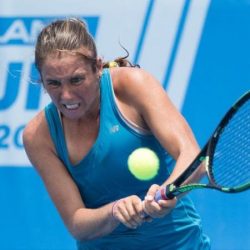 The College is delighted to announce the appointment of former tennis tour professional and coach, Suzy Larkin, as the Performance Tennis Coach at Eastbourne College from 1 September.
In her time as a touring professional (2016-18), Suzy reached a career high of 620 in the world rankings and 14 in Great Britain (GB). She is the current Sussex County Champion and has enjoyed recent success in GB Tour events; she played nationally plus internationally as a junior. Suzy is an LTA and Professional Tennis Registry coach, and has many years of club and performance coaching experience at home and abroad.
Earlier this year, Suzy began working with some of the top players at Eastbourne College as they trained for GB Tour events, and she made an immediate impression with her technical coaching and ability to instil good training habits. Her supportive and approachable manner, as well as a deep understanding of the strategy and tactics needed for success at GB Tour level and beyond, have been invaluable to those who have been coached by her.
Suzy will join an experienced, highly qualified team of tennis coaches and teachers involved in tennis at Eastbourne College. Living on site and working full time in the role will allow Suzy to be a consistent day-to-day presence for the top squad players. As well as working on court individually and in small groups, Suzy will have oversight of the weekly tennis training programme, including fitness, strength and conditioning, and mental skills work.
Suzy also holds a mathematics degree (2.1) from Oxford Brooks University following A-level success in mathematics, government & politics, and economics & business. Her academic background means that she will also take on the role of mentor and tutor to pupils at the College.