The Grand 'Inter'National Qualifier for Bromsgrove School Greenpower Team
21 Oct 2021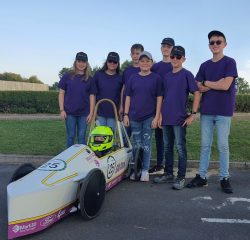 With Team Chicken's history of fantastic performances and well deserved wins, we were elated to find out that our Greenpower team has been successful in qualifying for the international finals. Our students have battled through many races, against those older such as university teams, and have still come out on top. 2017 was a particularily successful year; Team Chicken had an amazing season, winning six trophies in four races and dominating in every race, making them the team to beat at Rockingham during the World finals. They came a very respectable second fastest Kitcar in the world and 27th overall out of approximately 300 other teams, moving from 49th to 27th position in the standings. In the 2018 our Kitcar were named F24 World Champions and 2019 saw them take second place Kitcar, and seeding eighteenth. In 2020, the team still managed to achieve 2nd placed Kitcar, and 24th overall, alongside winning an award for the best graphics.
2021 has provided yet another chance for success, despite difficult circumstances. A few quotes from Steve Broadbent, who is in charge of the team, summed up the day perfectly: "With only one race under the belts of the Greenpower team this season it was time to squeeze another circuit into the year before the international finals next month. The location this time was the well-known 1920's F1 race circuit, in the centre of the Grand National horse racing ground at Aintree in Liverpool."
"COVID-19 has certainly damaged the Greenpower teams this year, with Bromsgrove School feeling the strain, consequently, not attending as many heats as we usually do. As a team, we have tried to look at the situation positively, especially as it has given us plenty of time to work on the car.  Scrutineering was passed with ease because of the hard work, and all students progressed through the practice session without a hitch, alongside our new tech, armed and ready we went into the first race full of confidence."
"All four races were identical in that the drivers were perfect; the car was perfect, and it ran away with the Kitcar lead easily.  At the end of the day, we were 10 miles ahead of 2nd place, which equated to about 7 laps in total.  We even managed to beat the F24+ university and cooperation cars as well.  A big congratulations to the team for a great win; Ollie R-H, Will and Amelie J, Ffion W, Jacob M, Harvey P, Lucy C and Jack R.  They all now proceed to the international finals at Goodwood.
We are extremely excited for the international finals to take place.