Wellbeing & Mental Health Initiative Award – Wellington College
02 Oct 2020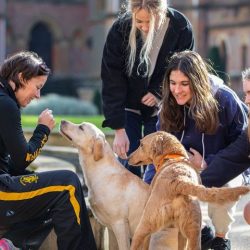 The Boarding Schools' Association (BSA) has announced the winners of its annual awards. BSA unveiled the eleven winners at its Annual Conference for Heads, which took place virtually on 22 and 23 September.
Wellington College was selected as the winner of the Wellbeing & Mental Health Initiative Award. Sedbergh School and Cottesmore Prep were highly commended in the category.
Wellington was awarded this honour for the ground-breaking work it has done around wellbeing, but namely for the launch of its first-ever Community Mental Health Day, hosted at the College in February 2020.
Community Mental Health Day welcomed 40 speakers and wellbeing practitioners who delivered over 75 talks and workshops on topics spanning a spectrum of issues, including, addiction, eating disorders, depression, and resilience. Through this series of talks and workshops, it facilitated an inspiring conversation between parents, staff, and students, strengthening our community and cultivating progressive thinking.
James Dahl, Master of Wellington College, said: "Thank you so much to the BSA for selecting Wellington College as winner of the Wellbeing & Mental Health Initiative Award. Our College mental health lead, Delyth Lynch and her team have done some outstanding work over the last few years to place Wellington at the forefront of mental health innovation in boarding schools. Congratulations to all involved."
Delyth Lynch, the College mental health lead said: "I am delighted that we have won such an important award. The Wellington Community places great emphasis on the importance of wellbeing in the curriculum and beyond. We're all working hard to ensure young people have the confidence to raise issues and seek help and it's wonderful that our efforts are being recognised."