Young Enterprise team scoops award at County Final
20 May 2020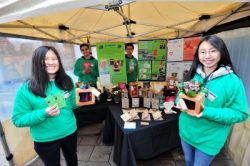 Bromsgrove School's Young Enterprise team, EcoVerse has scooped an award at the Herefordshire and Worcestershire County Final of the Young Enterprise Awards.
Following their success in the Area Final of the YE Awards, where they won the Best Finance, Innovation and Creativity and Best Company awards, EcoVerse has gone on to win Best Use of IT at the County Final.
The team made a variety of home decorative products. Their best sellers were recycled gin bottles in a wooden frame which could be used as vases or other storage, and hearts made from strips of recycled pallet wood.
The feedback from the judges specifically referred to EcoVerse's "Excellent website and use of social media to promote their products which displayed good customer focus".  In previous rounds, it was also mentioned that the judges liked the fact that they were able to offer customers the option to pay by card.
Commenting on the YE team's success, Mrs Joanna Holdsworth, Business Teacher and Young Enterprise Centre Lead said "this year has not been easy for EcoVerse's business, like most businesses at the moment, with trade fairs cancelled and competitions not able to take place in person. However, the team has shown a huge amount of resourcefulness and resilience to working remotely to submit an online presentation and still give their all to the competition. Everyone at the School is very proud of their achievements, as should they be. Hopefully, many lessons will have be learned that will help them in future life. We look forward to celebrating with the team on our return to School".