Zara Leads the Way in Eventing – Bishop's Stortford College
19 Oct 2020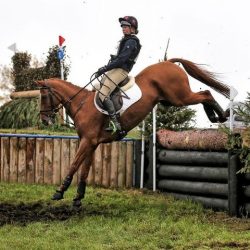 Bishop's Stortford College Senior School pupil, Zara Clark-Jones, has won the U18 Childéric Saddles Little Downham International One Day Event, on Rickamore Royal, a horse she's been riding for just two weeks.
Zara, who first started jumping in 2017 and began to participate in One Day Events just one year later, scored a total of 29 (penalty) points with Rickamore Royal in the dressage, jumped clear in the show jumping and also the 100cm Cross country course inside the time limit. This was Zara's first time out on Rickamore Royal, who stands at 16.2 hands. A win, so early in their partnership, should not be underestimated yet Zara also rode in the same competition section on her other horse, Arthurian Legend, on whom she placed 6th with after scoring a total of 33 points.
The win means Zara and Rickamore Royal have now qualified for the U18 Regional Championships due to be held next Spring. Last year, Zara qualified for the Badminton Grassroots 2020 competition on Arthurian Legend which was cancelled due to Covid but she hopes will be rescheduled soon.
Prior to One Day Eventing, Zara competed in 'Showing', an equestrian discipline that does not involve jumping. As well as riding 4 times a week, weather and light permitting, Zara receives additional tuition from specialist trainers and attends training camps during the holidays. She is inspired by reigning Badminton Horse Trials Champion and one of Britain's leading event riders, Piggy French. Zara's long-term ambitions include selection onto the Junior GB Team but for now, is aiming to get onto the Frickley U18 team.
The College would like to congratulate Zara on her recent achievements and wishes her the best of luck for all future competitions.