Eastbourne College golfers brave Royal St George's during ISGA national finals
16 Aug 2019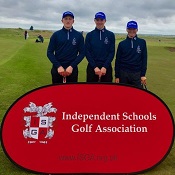 The first round of the Independent Schools Golf Association national finals took place at Princes Golf Club, Kent, under variable conditions. George, Toby and Will represented the College among the best golfing schools and academies in the country.
They received their trophy for winning the area round, reached the finals and enjoyed two rounds in very contrasting conditions. On the Sunday they played at Princes Golf Club in a stiff wind and wet conditions, followed by round two at The Open 2020 and world famous Royal St George's in the best conditions possible, much to the relief of the team.
After day one and with two of three scores counting, George and Will's scores put them just under mid table. Day two provided ideal scoring conditions and George almost shot a level par round with the final putt, but finished with an impressive one over par round. Equally impressive, Toby came in with a great round +2, having been +4 early on, to give the team a combined +3 score and edge their way towards 11th overall, with just 5 shots separating 6th and 12th positions. A great achievement on the College's first outing in a golf national final. With such a young team, there is a promising future ahead and with this valuable experience and some fortune hopefully they can reach the finals again next year.
Despite being in Year 10 and 11, all three pupils are part of their respective U18 county squads, having been spotted during junior qualifying events in the past few years.
Toby, who plays off a 4.5 handicap and hopes for a gold scholarship to a division one golf college in America one day, praises the county set-up, 'Kent squad members get quality coaching and course management lessons.' He is not a stranger to Royal St George's either, 'my best round last year was -1 at Lewes and a level-par at Royal St Georges Golf Club. I came down a total of 6 (handicap) shots since the start of 2017.'
George, whose family nurtured his early interest in the game out on the manicured courses of the Algarve, Portugal, praises Russel Evans and Rick Simpson for their coaching and management, 'we get individual and squad training sessions as well as collaboration between our personal coaches and the club coaches, so we get the best of both worlds. We also get access to golf data-lab to track our scores and discover our weaknesses.'
Will, the youngest of the team, is keen to show his older counterparts he can keep up, 'I play twice a week at weekends but I will practice all day when I can and fit in games whenever I do not have school.'
Training for up to six hours a week around a busy schedule of schoolwork is tricky but mostly handled at the weekend in their own time. Congratulations to the College's golf team and good luck for the rest of the season.