Sedbergh School
Our ethos is one of challenge, innovation and inclusivity. We achieve excellent exam results and are proud that the majority of our pupils go to their first choice university.  However, we pride ourselves on giving Sedbergh pupils a breadth and depth of understanding beyond the confines of their classroom learning.
Category: Senior, Sixth Form
Pupils: Co-Education
Type: Boarding and Day
Religious Affiliation: Church of England
Roll: 331 Boys / / 219 Girls
Boarder Number: 550; 450 UK, 100 Overseas
Age Range: 11-18 Years
Founded: 1525
Location Description
The small, safe yet vibrant market town of Sedbergh is situated between the Lake District and Yorkshire Dales, two of the most visited National Parks in Europe. Sedbergh benefits from excellent road and rail links, and two international airports are within easy distance.
Sedbergh School is under five miles from the M6, within a 90 minute drive of Manchester and Liverpool international airports, 25 minutes from the Lake District town of Kendal and 35 minutes from the city of Lancaster.
School Contact Details
Headteacher: Mr Andrew Fleck
Contact for enquiries:UK Registrar, Amanda Ferguson or Overseas Registrar, Christine Ritchie,
Station Road, Sedbergh, Cumbria, LA10 5HG
Tel: General Enquiries: 015396 20535 Admissions(UK): 01524 279211 Admissions(International): 015242 79209
Email: hmoffice@sedberghschool.org
Facilities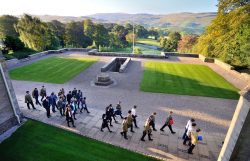 Sedbergh School is a Christian foundation and Chapel is part and parcel of the weekly life of the School, with the Chaplain playing a key role in providing pastoral support to pupils. Music is important at at Sedbergh. Each year a musical is staged involving virtually all the pupils and there are various Choirs, ensembles, a Swing Band and a Brass Band. We offer a wide variety of dramatic activities including whole-school plays, film projects, year-group productions, workshops, radio plays, theatre trips, Drama competitions and a well-developed tradition of House plays. Sedbergh is the only school in the world that is allowed to use the Millennium Products logo, a reflection of the enthusiasm and expertise of our Design and Technology team and the achievements of our past pupils.
Sedbergh School has an international reputation for its sporting achievements and the School also takes great pride in offering a broad range of sporting opportunities for all pupils, whatever their aptitudes and abilities. For boys, in addition to the main sports of rugby, rugby sevens, hockey and cricket, boys have the opportunity to pursue athletics, sailing, shooting, squash, badminton, basketball, cross-country, mountain-biking, fives, swimming, tennis and golf. For girls the main sports are netball, hockey, athletics and tennis, with extra opportunities to pursue aerobics, badminton, ballet, climbing, cross-country running, dance, fencing, gym, horse riding, sailing, shooting, soccer and swimming. Sedbergh also has an equestrian team. Facilities include Five courts, gym, shooting range, 16 tennis courts, outstanding cricket pitch. Sedbergh School 1st XV rugby team has recently won the Daily Mail 15-a-side League, the Rosslyn Park National Schools Rugby Sevens Championship and the Army Super-Tens National Championship making it the Number 1 school for rugby. In June 2018, Sedbergh will open a brand new £6million sports centre.
Sedbergh School provides specialist English as an Additional Language (EAL) teaching to international pupils who require tuition to improve their English. Our Special Needs Department works across the school to ensure that all pupils receive the support that they need for effective learning and maximum development. Where a particular need is identified, specialist teaching is given, usually on a one-to-one basis eg. dyslexia and associated literacy difficulties. Extra support on Mathematics and English is also available.
The magnificent location of Sedbergh gives opportunities for many outdoor activities from a walk in the hills to mountain biking, or the calm of fishing to the challenge of kayaking. Pupils are encouraged to participate in CCF and the Duke of Edinburgh Award.
Our pastoral care is second to none and the successful House system fosters a caring environment, and creates smaller, tight-knit, cross-year communities within the School. Sedbergh has nine senior Houses in total: six for boys and three for girls. Each House has its own library (in addition to the School Library), common rooms, computer suite and dining room, enabling pupils to study, socialise and dine in their House as well as sleep. Uniquely, we also have an in-house health centre with our own doctor, nurses and physiotherapist.
Scholarships
Entry into Years 9, 10 and 12: Academic • Music • Art • Design & Technology • Drama • Sport • All-Rounder. Some bursaries are available, please contact the school for details.
Entrance Requirements
UK enquiries: please email admissions@sedberghschool.org.
Overseas applications: please email david.milner@sedberghschool.org
Fees
2021/2022
Full Boarding:
UK Residents Years 9-13: £11,996 – £12,025 per term.
OVERSEAS Years 9 – 11: £12,259 – £12,318 per term.
Day Pupils:
UK Residents Years 9-13: £8,811 – £8,853 per term.
Night Rate for occasional use £56 per night
Downloadable Resources
OPEN DAYS
All visits are welcome, please contact the school
We have developed an outstanding 360° Tour of our campus for you to explore in the comfort of your own home.
Click here to view our 360° tour
Families are warmly invited to set up a virtual visit with our Admissions Team, when they will be able to meet our staff, ask questions and discover more about the School.
To find out more, or to arrange a visit, please don't hesitate to contact us:
For British families (living in the UK or abroad): Mrs Amanda Ferguson, Senior Registrar, +44 (0) 1524 279 211 or admissions@sedberghschool.org
For International families: Ms Christine Ritchie, Overseas Registrar, +44 (0) 1524 279 209 or cir@sedberghschool.org
Latest news from Sedbergh School

To view the latest news from Sedbergh School please click HERE

Read more

SEDBERGH SECURE SILVER IN NATIONAL...

This week saw the under 16 girls team head down to the Olympic Park, London for National Schools Finals with the aim of becoming the best team in the country. In the semi-final, Sedbergh had been drawn against Headington School and whilst the girls took some new nerves into this fixture they soon started to...

Read more

SEDBERGH TARGET SHOOT TEAM TAKE...

The Shooting Team travelled to Shrewsbury for the annual triangular match against Ellesmere and Shrewsbury, held on a rotating basis at each of our three ranges. 12 shooters travelled, with several new caps entering the 2nds and some regular 2nd VIII hands stepping up to 1st team representation to fill the gaps left by Y13 Protected Time....

Read more

CURTIS SELECTED FOR ENGLAND U18...

Sedbergh School Rugby Captain, Tom Curtis, has been named as part of a 42-player squad for a development camp in Bristol. This isn't Tom's first call up for England Under-18 squad, he was part of the Under-18 squad that toured South Africa in August 2018 which was the start of the pathway season. The development...

Read more

Sedbergh schoolboy selected for Senior...

Eddie Jones has called Sedbergh School's rugby Captain, Cameron Redpath into the England squad that will tour South Africa next month. The test matches are on 9th, 16th and 23rd June. Cameron will be the youngest member of the squad and could make his debut for England at the age of 18. Whilst the rest...

Read more

Rong Qiao Sedbergh School, Fuzhou,...

Five hundred years of educational history is about to embark on a new initiative as Sedbergh School, Cumbria, will support...

Read more