Taunton School violinist performs with BBC Symphony Orchestra
15 Nov 2023
Award-winning Taunton School violinist performs with BBC Symphony Orchestra
Music scholar Anthony Knight, 17, was chosen to play with the world-famous orchestra at the BBC's Maida Vale studios in London.
The event was organised by Awards for Young Musicians, a charity which provides support and experience for talented young players across the UK as part of their Awards Programme.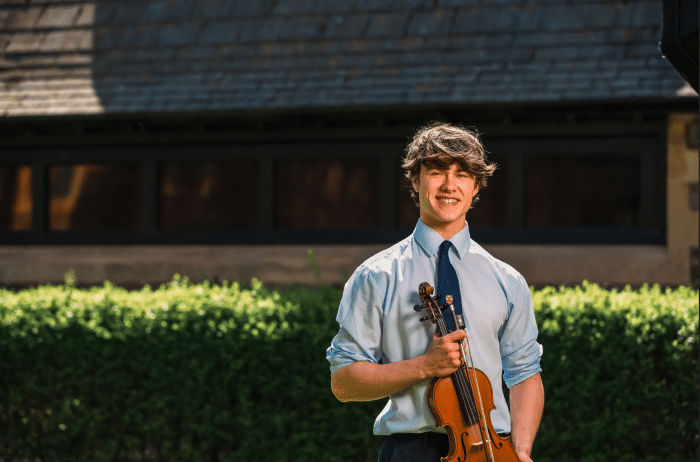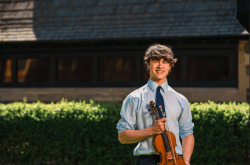 Anthony took part in workshops and rehearsals before leading the orchestra's second violins in a performance of Smetana's Vltava and Humperdinck's Hansel and Gretel Overture.
"I was speechless when I learned I had got the chance to do this," said Anthony, who leads Taunton School's Symphony Orchestra and also plays in a string quartet. "It felt like a dream performing at the BBC's Maida Vale studios – a place where so many famous musicians have performed," said Anthony. "It was inspirational, fun – and unforgettable."
Anthony, from Minehead, won Taunton Young Musician of the Year in 2022. Earlier this year he was given a prestigious county award by the High Sheriff of Somerset after raising thousands of pounds from church recitals in Somerset for charities working in Ukraine.
He is now attempting to raise £20,000 for UNICEF to help children in conflict zones, with a series of concerts in hotels across Europe. Anthony has already played in Venice and in early December he will play at hotels in Riga and Vilnius.
He is studying A-levels in music, psychology and philosophy and hopes to study music at university or a music school next year.
"We are immensely proud of Anthony's achievements," said Headmaster James Johnson. "Through our scholarship scheme we are able to encourage an exceptional talent like Anthony to reach his full potential. "He is ambitious, hard-working and yet down-to-earth – an inspiration to us all."
Taunton School, Somerset