Danes Hill School
I loved my school days.  I loved the friendships and the learning, the outdoor space and the school trips, the teachers and the sport.  I squeaked away badly on my violin, I sang with tuneless confidence and loved being on the stage.  In fact the only thing I disliked was the school food.  My education helped to shape me into the person I am today.  It gave me my passions for mathematics and science, the confidence to lead assemblies and staff meetings, my sense of right and wrong and my innate desire to be the best that I can be.  You could say I have never left school, but nor have I ever stopped learning.
If you are considering Danes Hill School as a parent, your children are already incredibly lucky, they have in you parents who recognise the importance of education and the difference that it can make to their lives. Choosing a school is an enormous decision to make.  All three of my children have had different educational routes, but all of them have benefitted hugely from their time in a prep school.  The opportunities they experienced will support them for the rest of their lives.
All good schools will ensure that your children have an excellent academic experience, they will aim high for your children and support them on their journey, regardless of their individual starting point.  As a school we invest in the very best teaching staff who can engage, encourage and inspire your children to achieve academically. We have children here who will go on to academic excellence at highly selective schools, we also have children who will find the lessons in maths and English difficult, or who may find the intricacies of modern languages perplexing.  Regardless of your child's academic potential we will ensure that they are supported and extended to aim high and be the best they can be.
The academics are hugely important but they are only part of school life.  If you think back to your own school days I suspect your memories are unlikely to be of the maths lesson in which you finally nailed quadratic equations, or the French lesson when verb conjugation fell into place.  Childhood is precious and as adults we have a true responsibility to our children to make it as special as possible.  We want our children to have breadth to their lives, to recognise the importance of sport, the arts, philosophical debate, friendships, teamwork … I could go on.  At Danes Hill your child's emotional wellbeing will be strengthened by this breadth and they will become rounded and emotionally intelligent human beings.  We want them to have great EQ, to learn to be kind and to understand that a Danes Hill education is a privilege that brings with it the responsibility to give back to others.  We want to work with you, as parents, to help your children to become thoroughly decent human beings.
If you share this philosophy then do come and meet us.  No school is right for every child so come and get a feel for the 'intangible'.  We have an amazing staff team who inspire as they educate and who model our beliefs to the children on a daily basis.  Most importantly we have amazing children, who are happy and love being pupils at Danes Hill School.
Maxine Shaw, Head
Category: Pre-Preparatory, Preparatory
Pupils: Co-Education
Type: Day
Religious Affiliation: Church of England
Roll: 516 Boys / / 356 Girls
Age Range: 3-13 Years
Founded: 1947
Location Description
Danes Hill School is located in Oxshott, Surrey. The School is widely recognised as one of the top Nursery, Pre-prep and Prep Schools in the area, attracting families from Oxshott, Leatherhead, Cobham, Epsom and Esher as well as further afield in Surrey. We also offer a bespoke bus service which is extremely popular with our Surrey families as well as our South London families from Surbiton, Wimbledon and Putney. If you are new to the area or relocating from overseas, our registrar would be delighted to provide you with further information about the local area.
School Contact Details
Headteacher: Maxine Shaw, Head
Contact for enquiries: Claire Walsh, Registrar
Leatherhead Road , Leatherhead, Surrey, KT22 0JG
Tel: 01372 842509
Email: Registrar@daneshill.surrey.sch.uk
Email: reception@daneshill.surrey.sch.uk
Facilities
Situated in 55 acres of landscaped ground in the village of Oxshott, Surrey. Our facilities are designed to enhance the excellent standard of teaching that we offer at Danes Hill. Separate Pre-preparatory and Preparatory buildings, 2 ICT suites, interactive whiteboards, wireless network laptops, art studio with kiln, state-of-the-art design & technology rooms, 420 seat theatre, drama studio, 3 choirs, orchestra, jazz band, string ensemble, individual instrumental lessons, science laboratories, lessons in French and Spanish, extensive playing fields and a paddock, swimming pool, facilities for all main sports including a new sports hall with climbing wall.
Scholarships
46 Senior School Scholarships awarded to a range of 17 senior schools in 2020.
All Common Entrance pupils successfully gained entry to their chosen senior school.
Entrance Requirements
At Danes Hill School we pride ourselves in being a non-selective school and our admissions process is designed to identify children who are able to benefit from our balanced and well-rounded education. An offer of a place will be made if we feel Danes Hill is the right school for your child. We have a straight forward admissions process whether you are joining our Nursery, Pre-prep or Prep School. We hope this step-by-step guide will help you understand the process. Claire Walsh, our Registrar will be your first point of contact and is happy to answer any questions you may have.
Step 1: Initial Enquiry
If you are considering Danes Hill as the school for your child, or would just like some more information, please contact Claire, via phone +44 (0) 1372 849203, or by email registrar@daneshill.surrey.sch.uk. You can order a copy of our School Prospectus which gives parents a taste of the principles and values that form the basis on which Danes Hill is run.
Step 2: Tour of the School
If you like the look of what Danes Hill has to offer, the most important thing for you to do next is to visit the school to get a feel for it and decide whether it is an environment which feels right for your child. We would always encourage you, if possible, to bring your child on your visit as they are just as important in the decision making process.
Our individual tours happen daily at 10am and last between one and two hours, depending on if you are looking at Bevendean and the Main School or just the Main School. You will meet with Mrs Ruth Samson the Head of Bevendean who will show you the classrooms and the wonderful resources available at our Nursery and Pre-Prep. Your tour will continue at the Main School where you will see the additional facilities Danes Hill School has to offer.
If mornings proves inconvenient, we will do everything we can to arrange a time to suit and if you are enquiring from overseas we would be delighted to arrange a MS Teams call instead.
Step 3: Registering Your Child
Some parents are keen to register their child straight after the school tour but we always advise them to go home and think about it – this is a big decision and it is very important that you are absolutely sure Danes Hill is the school for your child.
Once you have finalised your decision, please complete the online Registration Form and pay the £100 non-refundable registration fee. Registrations are considered by the Head in the order in which they are received so we would always urge you to register as soon as you have made your decision to avoid disappointment. Claire is always available by phone or email to answer any further questions you may have.
Step 4: Offer Letters
Places in our Nursery (Mini Transition and Transition) and Reception are allocated on a first come first served basis therefore, so long as there is a place you will receive an offer letter upon registration.
We ask for recent school reports for children joining in Year 1 and above. While we are a non-selective school in some year groups we will also arrange an Assessment Morning. This morning not only looks at their maths and English abilities but the whole child, how they work with their peers and how Danes Hill School will help them reach their full potential.
Step 5: Accept Your Child's Place
Once your child have been formally offered a place at Danes Hill School we ask for a £750 (this will increase to £1000 from September 2022) acceptance deposit up to 12 months in advance. Once their place had been accepted we send out our Welcome Packs and arrange an Induction Day. Our staff ensure that new pupils are made to feel really welcome from day one of their time at the school. Depending on their age, this might include another pupil being allocated as their 'buddy' to help them find their feet. Our parent body, Friends of Danes Hill (the FODH), are equally welcoming to new parents and there are plenty of opportunities and events for new Danes Hill families to immerse themselves quickly into the school community.
Fees
Fees 2023/2024
Mini Transition, Age 3 (£ per term)
Per morning: £530
Per afternoon: £420
Transition, Age 3-4 (£ per term)
Per morning £540
Per afternoon £510
Bevendean (£ per term)
Reception-Year 1: £5,300
Main School (£ per term)
Year 2-Year 8: £7,500
For more information, please visit our website daneshillschool.co.uk/admissions/admissions-points-and-fees
Downloadable Resources
OPEN DAYS
All visits are welcome, please contact the school
Danes Hill School Open House: Friday 2 Feb 2024 - Time: 9:00 am - 12:00 pm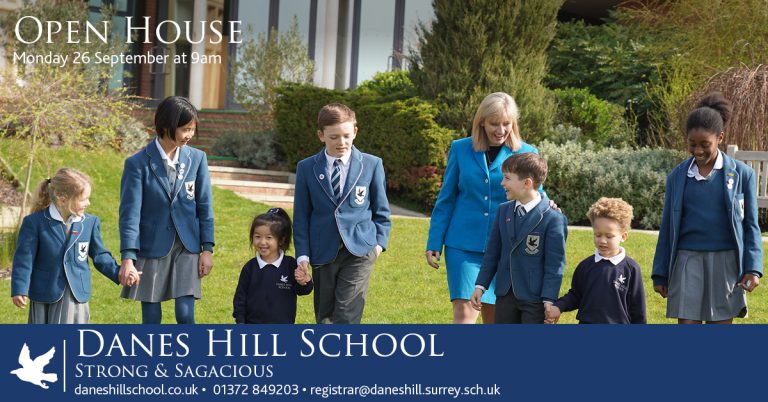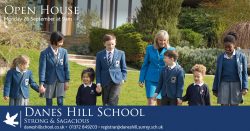 To book a personal tour, please visit our website daneshillschool.co.uk/admissions/book-a-visit
To view our Virtual Tour click here