Cottesmore School
Cottesmore has been preparing children for major public schools since 1894 and continues to provide excellent preparation for senior boarding schools who share Cottesmore's belief in nurturing a rounded, dynamic individual.
Category: Pre-Preparatory, Preparatory
Pupils: Co-Education
Type: Day & Boarding
Religious Affiliation: Church of England
Roll: 106 Boys / 94 Girls
Age Range: 4-13 Years
Founded: 1894
Location Description
Victorian mansion situated in 35 acres of beautiful West Sussex countryside, one hour from London and just south of Gatwick airport at the end of the M23.
School Contact Details
Headteacher: Mr Tom F Rogerson
Contact for enquiries:Mrs Lottie Rogerson, Registrar, Principal of Pre-Prep and Head's PA
Buchan Hill, Pease Pottage, West Sussex
Tel: 01293 520648
Email: admissions@cottesmoreschool.com
Facilities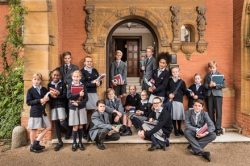 Indoor heated swimming pool, Grass Tennis Courts, Astro pitch and covered astro, Cricket, Football and Rugby pitches, Fishing Lake, Shooting Range, Bowling Alley, ICT Suite, Outdoor Classroom, 3D Printers, Drones, Design Technology Workshop, Two Science Laboratories, Cottesmore Croft (Farm) and Adventure Playground.
Scholarships
To see which Public Schools our Year 8 children have moved onto visit www.cottesmoreschool.com/Academic/Future-Schools
Entrance Requirements
The entry requirements involve an informal meeting with the Headmaster. You will be requested to submit your child's last three terms' school reports. A test may need to be completed if the child is unable to attend the meeting.
Fees
2020/2021.
Pre-Prep. Reception and Year 1: £3360per term. Year 2: £3640 per term. Year 3: £4480 per term.
Prep. Day Boarding: £6290 per term. Full Boarding: £9550 per term. International Boarding: £10,550 per term.
Reports
OPEN DAYS
All visits are welcome, please contact the school
Open Morning: Saturday 25 Sep 2021 - Time: 10:00 am - 12:00 pm
Open Morning: Saturday 4 Dec 2021 - Time: 10:00 am - 12:00 pm
For details of all our Virtual Open Mornings please contact the school office on openmorning@cottesmoreschool.com or tel. 01293 520648.
For other information, prospective parents can contact  admissions@cottesmoreschool.com