Cottesmore School
Cottesmore is an academic boarding Prep school, which has been preparing children for the major public schools for over a century. We are large enough to be competitive in academic standards and facilities, but small and friendly enough to allow us to respect each boy and girl as an individual, and to take account of his or her needs, strengths and weaknesses. Within a warm and secure atmosphere, the children are encouraged to work hard and to play hard. A child rarely leaves Cottesmore without having excelled in some field.
Category: Pre-Preparatory, Preparatory
Pupils: Co-Education
Type: Day & Boarding
Religious Affiliation: Church of England
Roll: 95 Boys / 80 Girls
Age Range: 4-13 Years
Founded: 1894
Location Description
Victorian mansion situated in 35 acres of beautiful West Sussex countryside, one hour from London and just south of Gatwick airport at the end of the M23.
School Contact Details
Headteacher: Mr T Rogerson
Buchan Hill, Pease Pottage, West Sussex
Tel: 01293 520648
Email: office@cottesmoreschool.com
Facilities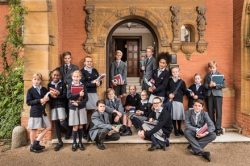 Chapel, Information Technology suite, Junior science laboratory, Art Room, Design Technology Room, indoor swimming pool, new Astroturf, fishing and boating lake, both grass and hard courts for tennis, squash, athletics, Judo, golf, cross country, basketball, archery, canoeing, windsurfing and shooting as well as the core sports of football, rugby, hockey, cricket, netball and rounders.
Pupils are able to take part in dance and drama productions, choir, orchestra, various ensembles and a wide range of instrumental lessons.
Separate Pre-Preparatory Department.
Entrance Requirements
Interview and Report from previous School.
Fees
2019/2020.
Pre-Prep. Reception and Year 1: £3360per term. Year 2: £3640 per term. Year 3: £4480 per term.
Prep. Day Boarding: £6290 per term. Full Boarding: £9550 per term. International Boarding: £10,550 per term.
Reports
OPEN DAYS
All visits are welcome, please contact the school
London Families' Virtual Open Morning: Tuesday 21 Jul 2020 - Time: 10:00 am
For details of our Virtual Open Mornings please contact the school office on openmorning@cottesmoreschool.com or tel. 01293 520648.
These webinars will provide attendees with a valuable insight into Cottesmore School, with our current parents providing first-hand experiences, and with the opportunity for registrants to ask questions and learn about life at our school.
For other information, prospective parents can contact  admissions@cottesmoreschool.com